If you're anything like me, you are usually behind the camera instead of in front of it. And if you do happen to be in front of the camera, you are probably surrounded by other people. Today, I want to switch our focus - at least just once in awhile.
You are a huge part of your own life, why not document that? Today I'm going to share with you a few ways to do that.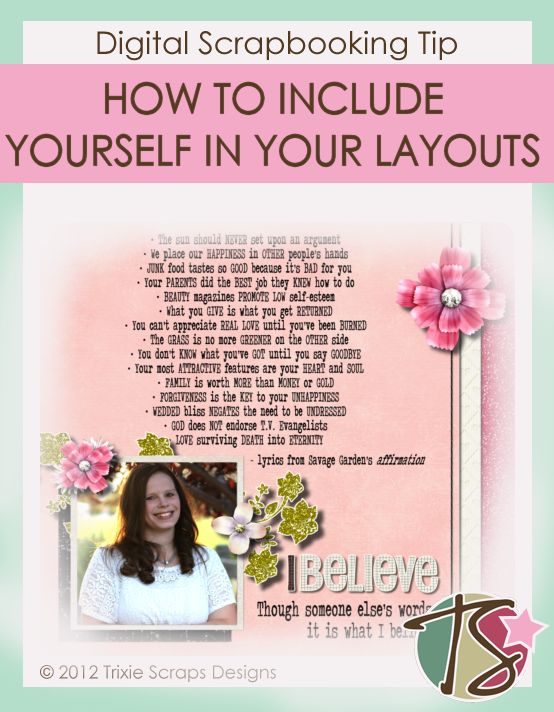 I decided I'd start with my newest layout, made specifically for this post. Make a layout about some of your beliefs. I sort of cheated with this one and used lyrics from a song - but I made sure to highlight the statements I strongly agree with.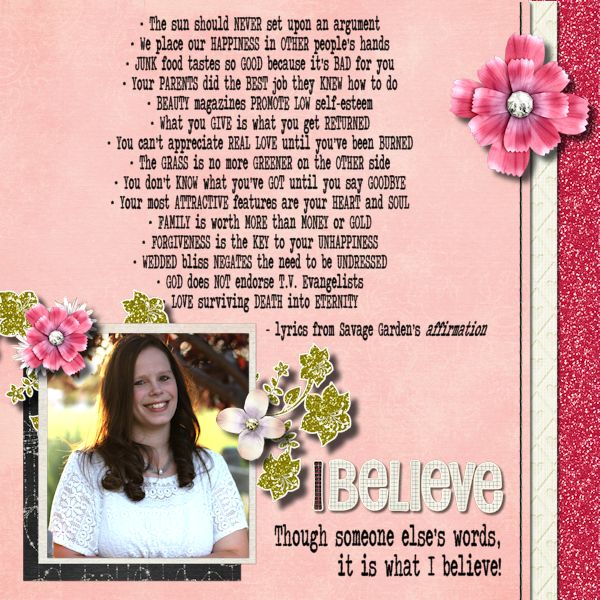 Layout was made using pieces from
Just One Kiss
.
Another way to make your layouts about you is why you have the name, nickname, etc. that you do. I did another post on this a while ago and you can read that
here
. If there isn't a reason for your name, maybe you can do a layout on if you like your name or not and why.
Everyone has hard times and when you're going through those times, you may not want to share those moments. When all is said and done, though - I've found it can be helpful to share those stories.
Layout made using
Everybody Fights Sometimes
Are there things about yourself you've had to learn to love? Share those stories!
Layout made using Got Glasses.
What about overcoming obstacles? Obstacles come in so many forms and I love Carrin's page about overcoming what other people think.
Finally, let's not forget about our hobbies and our some of our favorite things. These are important things people need to know about you. You know yourself and what you enjoy, but will people down the line who might see your pages know this?
I shared the way I got into reading:
And Jennifer went to town on sharing a few of her favorite tv shows in her layout:
I hope I've inspired you to make more of your layouts All About You. Be a presence in your own life. And if you're brave enough, please share yourself with us in our
gallery
.
All Trixie Scraps Designs products can be found in the following online stores:
Trixie Scraps Shop * My Memories * Ginger Scraps

Welcome to another Monday on the Trixie blog. I hope your weekend was a good one.