My personal CT and the Scrap Matters team are going CRAZY for this grab bag!! I am so happy the response has been so great, and I have to tell you, the layouts I've been seeing from it so far are absolutely AMAZING!! I really have a hard time picking a favorite! So, here are some ideas of what you can use the grab bag for - these ladies are all so talented, their layouts are just beautiful!
And now, I have a whole bunch of Scrap Matters Birthday Bash news and happenings to tell you about!!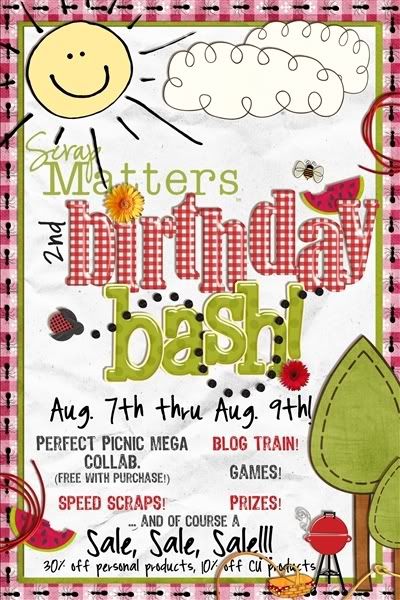 First up, you know that we are having a Storewide Sale to celebrate Scrap Matter's 2nd Birthday - WOOT!! All personal use products are 30% off, all Commercial Use products are 10% off, and all the Kaiser Craft hybrid products are 20% off, too! To sweeten the deal even more, of course we have a brand new MEGA kit for you! "A Perfect Picnic" is FREE with any single $15 purchase from the Scrap Matters store, this weekend only!
And, if you spend $20 or more in a single purchase, you'll not only receive the MEGA kit, but you'll also receive the coordinating "Hybrid Party Pack," too!
Now, you don't want to miss a single Speed Scrap because they ALL have fabulous participation prizes AND they're going to be a lot of fun, too! Here is the full schedule of Speed Scraps:
I am personally hosting the Speed Scrap on Saturday night at 9pm EST - here is a peek at the participation prize I'll be giving away!!
Of course, a big Birthday Weekend should always include a fun CHAT with lots of Scrap Matters trivia and prizes! The chat will be hosted on Saturday by SM's own Jen! Here is the info on that: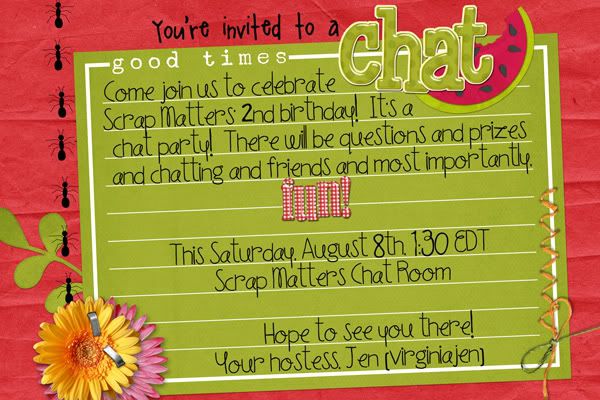 And, no birthday party would be complete without lots of fun games and goodies given to the winners, right??
Check out the Scrap Matters forum HERE
for the complete scoop on all the games we'll be hosting throughout the weekend. For now, I can tell you about the following games which have been or will be posted soon!
Krisi will be hosting two rounds of BINGO for us tomorrow - but, you need to hop on over there today to pick up your BINGO card and get your words posted! Click on the preview below to find all the details:
Krisi is also hosting the Comment Challenge - everyone who has at least 75 new posts/gallery comments this weekend gets a participation prize from Designs by Tater AND everyone with 125 comments (or more) will be entered into a drawing for one of three gift certificate prizes. Fun, right??

Here is a preview of the participation prize for the Comment Challenge - click on it to visit the forum and enter your starting post count!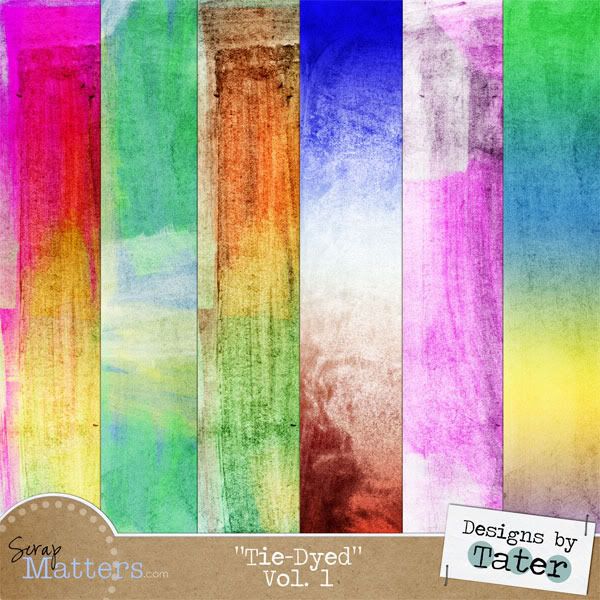 Then, on Sunday, Wendy of WM[squared] will be hosting a "Name that Kit" game! Here is a preview of the details!
I know there will be other games, as well - so keep checking the
official game thread
at the forum to stay in the know!!
Last, but certainly not least, don't forget our Blog Train tomorrow!! The whole Scrap Matters team has come together to make a huge, and I mean HUGE blog train for you, with lots of Quickpages, wordart pieces, clusters and more that will coordinate with our new MEGA,
"A Perfect Picnic."
I will be one of about 40 blog train stops, so you definitely want to check back in tomorrow!! The complete blog train list will be posted in the
Scrap Matters forum
, too - so, you'll be sure to hit each and every stop. The train leaves the station tomorrow morning at 9am EST - make sure you're on it!!
WHEW!!! What a celebration, huh?? Thanks for sticking with me through this VERY long post - but now, you are "in the know" and can be assured of enjoying our entire jam-packed birthday weekend with us. It's going to be a blast! Please join me in saying....
OK, everyone - I apologize for the length of this post in advance... but, there is so much fun stuff going on, I had to make sure to show it all off!! Yesterday, I showed you a sneak peek of my first-ever solo grab bag and I'm so happy to tell you that today, its officially released for sale! Here is a look at the grab bag preview, which gives you a peek at a whole bunch of stuff you will find inside the bag. If you click on the preview, you will be taken to the grab bag in my shop at Scrap Matters - remember, its an $18 value for just $4.00, and its only on sale until August 20th!