First of all, I have to share that I'm getting
very
excited... Digital Scrapbook Day is almost here! Can you feel it?!? A whole day of fun
especially for
those of us digital scrapbookers (and designers) who love our hobby so much. Oh my gosh, couldn't get any better than that! Or, could it?? At Scrap Matters, we love DSD so much, we've turned it into a
whole WEEKEND of fun
! Games, prizes, speed scraps, SALES!! You betcha, Scrap Matters is THE place to be this weekend... check it out! And make sure to check back here on Friday, since my blog will be one of the stops on a HUGE Scrap Matters team blog train that you're going to LOVE!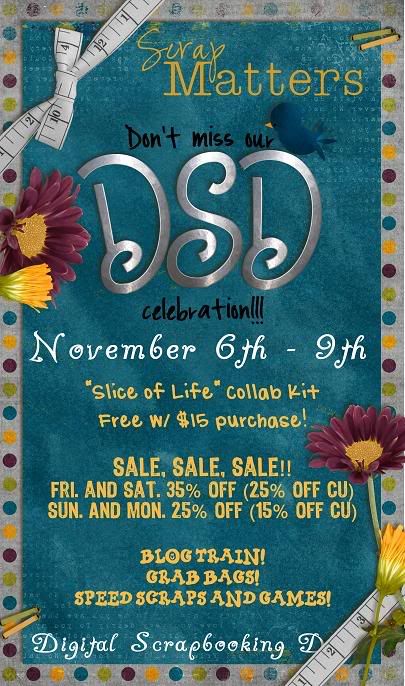 OK, today is Manic Monday and of course, I have a little something on sale for you today!
Ariel's Room
is one of my more popular mini kits, so I think I'd put it on sale today for all of you! It's just $2, today only - but make sure you snag it before the clock strikes twelve and Tuesday arrives!
If you receive my newsletter, you know I promised you
GRAB BAG goodness
was coming very soon, right? Well, I am pleased to say that after a whole weekend of working away, my grab bag is DONE! Do you want to see a sneak peek? Well, who am I to deny you? lol Here it is - watch for this to go on sale on Friday!
And finally, I have a fantastic little freebie for you today! This desktop QP was created by my fabulous Scrap Star Carrin, using my
Greatest Hits templates vol. 3
and my kit
Indian Summer
. Carrin graciously saved it for you in two formats (1280 x 800 and 1024 x 768) , so that you can use it to decorate your own computer desktop this November. How fun! Please click the image to download, and make sure to say THANK YOU! I will pass along all your thoughts to Carrin, and I'm sure she'll appreciate them.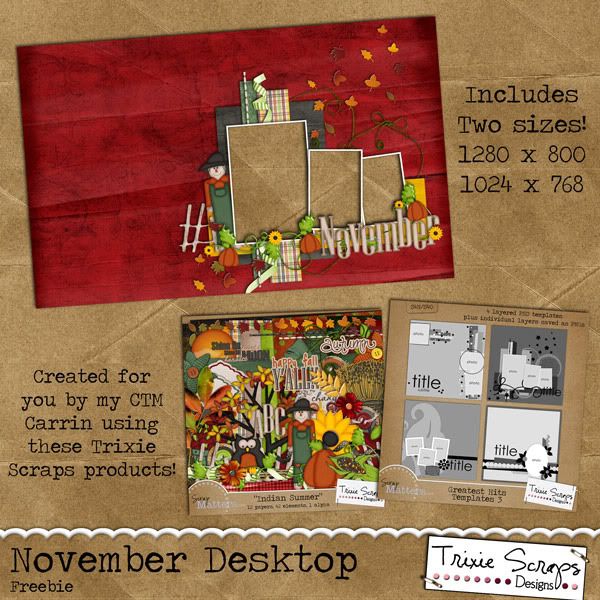 Let's just call this the mish-mosh-get-it-all-into-one-post Monday, ok? lol