Today, it is my honor and pleasure to be passing out your 12 Days of Christmas gift....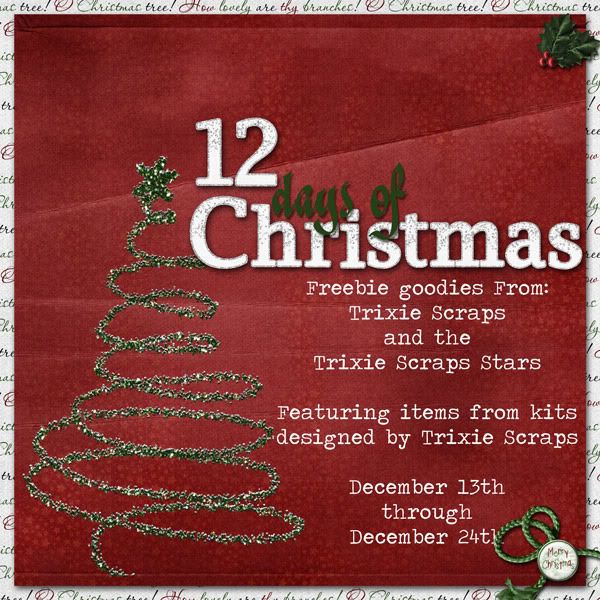 And, I hope you not only love my gift but that it also tempts you to get in your kitchen and get some extra special baking done for your families! I was going to make you a template... but, if you're following along lately, you might have seen that there will be a special holiday card edition of the ScrapMatters newsletter this week... and a little birdie MIGHT have told you there will be a freebie in that newsletter from me. Maybe ;) OK, there IS a freebie from me in that holiday card newsletter and YES, its a template! So, since I didn't want to bore you all to tears, I thought of something else for my own blog.
Every year, I make SCADS and SCADS of Christmas cookies. It is a tradition that began with my mom as a young girl that I have cherished for years. When I married, I started collecting some of my own favorite recipes to add to my mom's already impressive repertoire. I even picked up a cherished family recipe from my husband's Dad. You see, Erick's grandma made these incredible Christmas Meringue cookies every year and they were my sweetie's absolute favorites as a kid. Sadly, his grandmother passed about 4 months before I met Erick, so I never got the chance to meet her. But, she was an incredible lady, and it is my pleasure to have been given one of her most special recipes so that I can make these cookies every year for her grandson and family to once again enjoy.
Normally, I make at least 14 or 15 different kinds of cookies... but, with my larger goal of losing the rest of the weight I want to lose always present in my mind, I didn't want to have a lot of cookies sitting around after the holidays are through. When that happens, there are only two people here to finish 'em off... and doing that every year is probably one of the bad habits that got me to the point where I had to lose 200 pounds, in the first place! lol So, this year, I cut it back to seven of our extended families' favorites. And, since everyone is always asking me for my recipes, I decided that it would be the PERFECT gift to pass out to all of you - I hope you all agree!
I made a recipe page from each of our seven favorites with my Yuletide kit. Each page is designed to print quality on an 8-1/2 x 11 sheet. PLUS, I even included a title page so you can print all the pages out, bind them up however you choose and keep it for years to come. Maybe you could even print up a couple last-minute gifts to toss in your bags! Whatever your choice, I hope you enjoy these recipes and that your family loves them, too. Simply click on the preview down below to download your recipes and if you do, please take a second to leave me a comment in that chat box over yonder in the sidebar. I always love to hear from my readers!
Tomorrow's gift, the 12th and final one for this year, will be handed out by Erica. I've set my blog to autopost since I know I'm going to be busy, busy! But, you'll be sure not to miss it - check back here after 6am EST. OK, and one final note - here is a copy of our Christmas card for this year - wishing you the MERRIEST of Christmases with love and thanks for your continued support of me and my designs!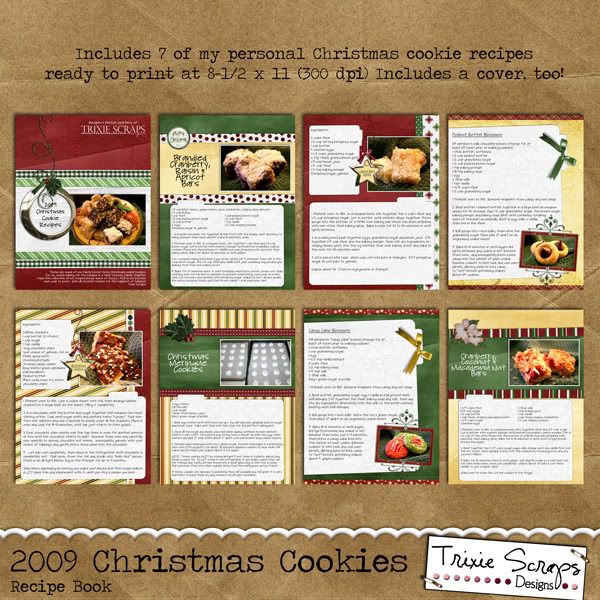 Click here (or on the preview above) to download
Welcome to the 11th Day of Christmas - WOW!!! Tomorrow is Christmas Eve and I can't believe its almost here. I hope your holiday plans are shaping up to be fabulous! Remember yesterday when I asked you how things were coming along for you? Well, today, I am going to be a cooking fool! I have lasagna to make for Christmas Eve dinner with my in-laws, and on Christmas Day, most of my family is coming here to Pennsylvania to spend the day with us... so, I have a few things I'll be preparing ahead of time so I'm not RACING on Friday morning.