"Lovey Days" grab bag
is being broken up and added to the store as individual pieces. You can still purchase it as a grab bag through the close of business tonight, Friday March 19th. But, as of tomorrow, the grab bag will be removed from the store. So, don't wait if you want to grab it!
Oh, one other quick note!! I'm sponsoring the
"Best Project 365" layout category in DSA's Birthday Bash layout contest
. You could win a $15 gift certificate to my store if you enter a Project 365 layout by March 31st!! If you
head on over to the thread
, you'll also find a coupon for 40% off my Project 365 products - I encourage you to use a coupon, pick up some P365 goodies and play along!! While you're there, check out the other threads and consider playing along with some of the other categories, too! You have until March 31st!
In the meanwhile, here is a look at all the products inside the grab bag. They are all available individually, as of today's new releases. Have a GREAT weekend!!! It's finally feeling a bit like Spring here, so I'm going to head outside and do some clean-up in my garden, I think!
Lovey Days mini kit by Trixie Scraps Designs
Through the Week templates vol 2 by Trixie Scraps Designs
Stamped, Dated, Stated volume 2 by Trixie Scraps Designs
Your Days are Numbered vol 2 by Trixie Scraps Designs
Alpha Tiles vol 2 by Trixie Scraps Designs
7-Up Journalers by Trixie Scraps Designs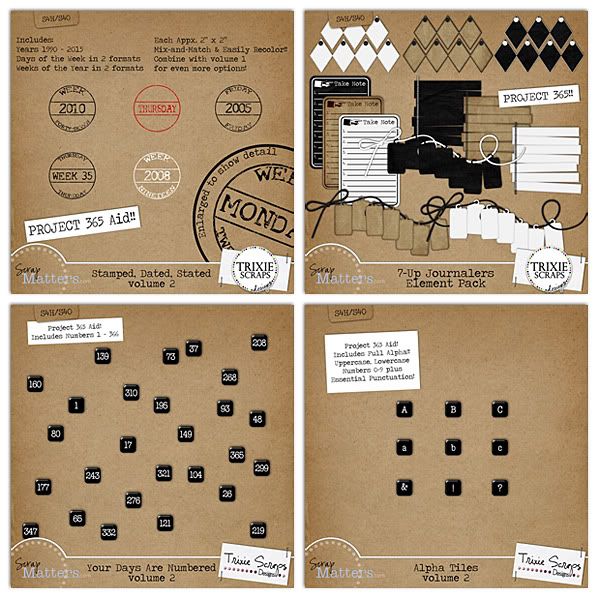 Hey, everyone!! Just a brief post from me this week. My