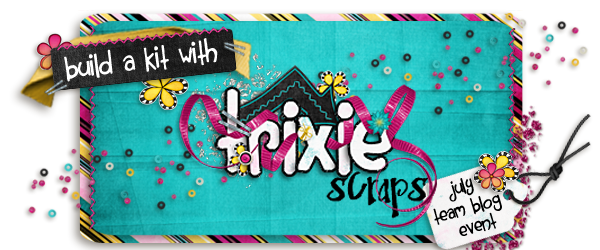 Welcome back to Special Request Saturday! If you have been following along this month, you know that July has been very exciting. This month we have been building a kit with Trixie Scraps- all based on YOUR ideas from the color swatch right down to the alpha. And what great ideas have come flooding in! Today, I am back with a teaser of what your collective creativity has inspired. The suspense is palpable! Is everyone ready?
But first a little recap of the July Build a Kit's journey:
First things first, we needed a swatch.
This was the stunning result of your ideas.
Next up was a theme to build the kit around. The winning theme was a "tropical cocktail party" theme. So perfect for scrapping summer vacations as well as a night out on the town.
Finally, we asked for paper patterns and element ideas. Here the creativity really got flowing! Thanks for all your ideas and input that went into the design of this kit- built specially by YOU! The best part is that 5 of you lucky readers who pitched in an idea or two has a chance to WIN this kit for FREE! (and not to worry, if you aren't selected as one of the 5, you still get an extremely generous prize from Trixie herself- so everyone is a winner!)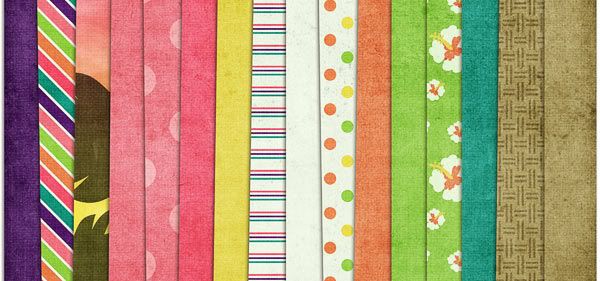 Why a teaser you may ask? Well, I'm sure you all remember Trixie's Hard Drive Crash of 2010, this really set her back in the creating process, so because of that, we're holding out until Friday so that you can see the entire kit in it's glory! The Stars are so excited to play with it, and I'm sure you all are excited to see what you've inspired! Don't worry! We'll be announcing the 5 lucky winners next week as well! So hold on to your seats one more week!
Thanks for playing along with us this month!
Whew, what a busy, fun month we have had here at Trixie Scraps. Here is a little recap of our last week on our blog. (Remember that there are still open challenges that you can join in on to win free products and incredible coupons to Trixie's Store.)
Monday
we were privileged to see Sandy's and Sharon's latest hybrid exploits- making a personal journal, a reusable coffee cup insert and a pop out frame using Trixie's adorable kit "Nature Girl." If you missed it, you will want to head back and check it out! I seriously envy these girls' creative juices.
Tuesday
was a treat from Amanda instructing us on how to touch up a photo with sepia tones using a solid color layer and a blending mode. I love the effect she creates and can't wait to use it on my next layout!
Wednesday's "Who Are You?" interview
gave us a little insight into the life of our very own CT member Fran. Very interesting read, to say the least. Don't forget, all Trixie fans that post their layouts in the Scrap Matters gallery or here on the blog are game for the spotlight! (with your permission and input, of course.) Bree also tried to call some last minute attention the CT Call we're having and also offered a
Freebie badge album QP/iPhone Wallpaper
Thursday
, Carrin challenged us all to lift a layout from the Trixie Scraps Gallery. This challenge is still open so hop to it for a chance to win a free kit from Trixie!
Friday brought us a desktop freebie from the talented Erica. This is one perk of digital scrapbooking that I personally love, the ability to beautify my computer screen. Go grab it
here
for free!
And that wraps up our week. Thanks for reading and stay tuned for all the new excitement to come with August! Happy Day everyone.