Trixie Scraps
*
Scrap Matters
*
Gotta Pixel
*
Scrapbook Bytes
*
Funky Playground
There are crazy sales everywhere this weekend, and digiland is no exception. Here are the sale breakdowns for all of my stores:
My shop at Scrap Matters: 40% off Friday & Saturday, 35% off Sunday, and 25% off Monday
My guest shop at Funky Playground: 45% off Friday only
My personal Trixie Scraps store as well as my shops at Gotta Pixel and Scrapbook Bytes will all be 50% off Friday-Monday!
If you like to buy direct from me, just click the image below to head straight to my personal shop and start saving: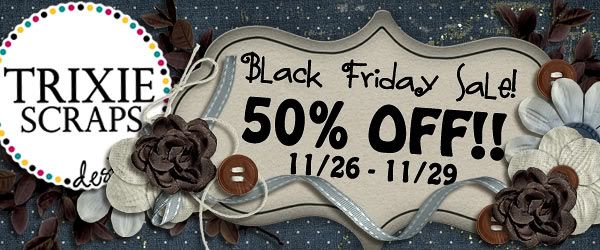 As if that's not fun enough, my four main shops (not my guest shop) will have two grab bags available. I wanted to try a new twist on the grab bag, so I'm letting you create your own! The "Make Your Own" Grab Bag is available in two sizes so you can choose the bag that best fits your budget!
The $3 MYOGB ($13 value)
includes a coupon for your choice of 1 kit, 1 template pack and 1 element or alpha pack.
The $5 MYOGB ($25 value!)
includes a coupon for your choice of 2 kits, 2 template packs and 2 element or alpha packs! I hope you find this a fun twist on the normal grab bag sales offered this time of year. This is the perfect time to nab all those things on your wishlist! Hurry though, this deal only lasts through Monday!
**Please note, collab kits and collab products are excluded from the grab bag offer**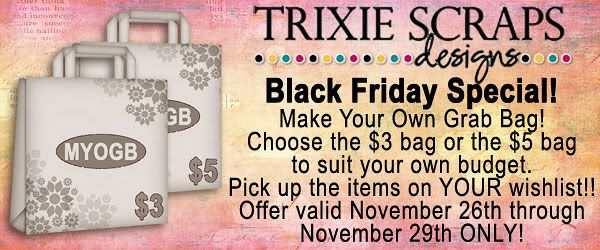 Now, of course I couldn't stop there, right?? My Happiness in a Cup Grab-a-Byte packs from earlier this month have been turned into a full collection. You can now purchase the GAB packs as a full kit, or purchase the bundle to also pick up the coordinating element clusters and double-page template pack, too!
Happiness in a Cup bundle
*
Happiness in a Cup kit
*
Happiness in a Cup clusters
*
Seeing Double templates volume 3
Carrin whipped up two new sets of blogwear from some recent releases this week, too! Being the coffee lover that I am, I just love the
Happiness in a Cup blogwear
- how fun would it be to decorate a blog with it, then sit sipping your coffee every morning while you compose your blog message for the day? She also created a
beautiful blogwear set from Courage, Hope and Strength
- perfect for all of you currently battling or surviving breast cancer and documenting your journey on your blog.
Last, but certainly not least this week, I have a new set of
element clusters
for you made from one of last week's new releases, The Sneezin Season. This cute set includes six border and/or frame clusters. I just love how quick and easy my pages come together with these pre-made clusters, don't you?
Speaking of last week's releases, in case you missed them, here is a brief recap. As I mentioned, this month's Gotta Grab It packs were released as a full kit,
The Sneezin' Season
. And, I also released a beautiful, chic, sophisticated
collab with Mye de Leon named City Girl
.
And how about a freebie for today?? Shari created this alpha for us, especially to coordinate with the Happiness in a Cup collection. Adorable, right? All you need to do is click on the preview or the link below to download. Please say hi when you do, I love to hear from you!
One last note... make sure to check my blog on Monday for a special coupon blog train I'm participating in with the ScrapMatters designers! Tomorrow is my 8th anniversary with my husband Erick... I am a very lucky lady and have been blessed with an amazing man who is not only a great husband, but also my very best friend, my soul mate, my comfort, my strength... and I love him very much. We're going to spend our day together shopping for our Christmas tree and decorating our home for the holidays. Can't wait!! Thanks, everyone... and enjoy your weekend!

Happy Black Friday! For all my US readers, I hope you had a fantastic Thanksgiving yesterday! We enjoyed a great time with both mine and my husband's families and got home REALLY late, so I'm exhausted! But, no time for tired today - it's Black Friday and we all need to shop, right?? Hopefully, I've stocked my store with lots of goodies this week to tempt you. In the interest of space, just know you can find all the goodies below in any one of my shops, linked below for your convenience. So, let's get to it!