I sincerely hope you've been enjoying the downloads so far this month. As the Stars has been hinting, their downloads have been created with (or to coordinate with) a Special Request Sunday kit I created and then decided to hold onto to give out as a Christmas gift to all our readers. So, without further ado, I'm proud to show off "A Vintage Holiday." Special thanks goes to Dana (louvegas) for suggesting the fabulous color palette for this one!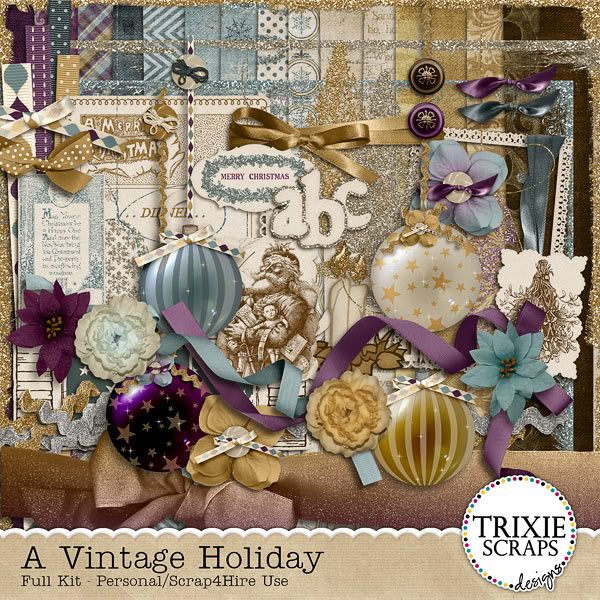 Today's Daily Download freebie is the Papers and Alpha for this kit. Tomorrow, Bree will have the rest of the kit for you for Super Saturday! And keep checking back through New Year's Eve because there are a few more extra pieces to come from the Stars, too!
The Download has Expired
*Note, our Daily Download freebies are going to start expiring soon, with the pieces of the kit expiring on December 27th. So make sure you start snagging what you haven't already downloaded!
And before I go... I just want to take an additional minute to sincerely THANK each of every one of you for your business this year. It is such a blessing to me that I can do something I love, make a little money doing it, and be able to help out with our household bills. And I owe the thanks for all of that to all of you! So, thank you, from the bottom of my heart, for being so supportive of me and my designs. It means a lot! I have created a little coupon for you all, just in case you haven't had your fill of shopping quite yet this holiday season. You may use the code in any of my stores, as it will work for all of them - so, shop in your favorite place! All I ask is that you please do not use the coupon on my bundles, which are already discounted for your shopping convenience. With that, here is your coupon.
Wishing you all a Merry Christmas and a Happy, Healthy New Year!! ♥♥ Trixie ♥♥
Merry Christmas, everyone! Trixie Scraps here... I'm so happy to have the chance to drop in and wish you all a happy holiday, show off the Daily Download kit (and give part of it away), and also share a coupon code with you! Haven't the Scrap Stars done an amazing job with the Daily Download this month? Each piece has been fantastic - I'm so proud of them and so thankful to call them my team. They are the best!!