Here is a way to get the effect:
I like to use a tripod for the camera, could also just set the camera on a stable surface if you don't have a tripod. I shot my photo with the entry way light on but you can shut it off if you like. I set my camera to ISO of 100 and the f/stop at 25, this will make a long exposure(about 20 seconds). I also set my camera setting on AV and manual mode. Play around with the f/stop, different f/stops will get different effects. Just make sure there is no movement or the photo will become blurred.
Today is $1 Pixels at Gottapixel. Make sure you stop by and grab up these goodies from Trixie's Store at
Gottapixel
.
Here is a freebie that Trixie's Scrap Star Shari has made for you to coordinate with the Sk8ter Boy kit, one of today's Dollar Pixel items!
And now for today's Daily Download for day 7. I hope that you all have enjoyed all the Daily Downloads so far. The mystery kit will be revealed on December 24th and then, you will see what the inspiration was behind all of this month's Daily Downloads. Remember all downloads will expire in 48 hours, so grab them now before they are gone.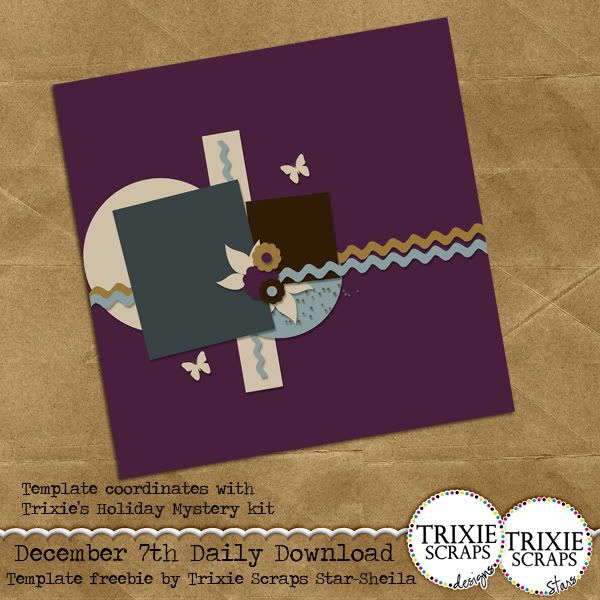 Hello everyone and welcom to todays Triple T Tuesday. I hope that this finds you all warm. We have been getting lots of snow and the kids have been home with a snow day. We put our tree up and I wanted to get a nice picture of the tree with the lights on. I was asked if you needed a star filter to get the star effect on your Christmas Tree lights. Well, the answer is no. All you need is a steady hand, or in my case, a tripod and the right camera settings.