Gotta Hug
- lots of fun elements, wordart and bright colors to celebrate one of the most special relationships on earth - that of siblings! And best of all, this kit works great for both boys AND girls!
Laura and I both had some fun pics with our sisters that we wanted to use this kit to scrap... and funny enough, we must share a brain since our layouts ended up looking a LOT alike! Maybe that's why our collabs always turn out so awesome! lol.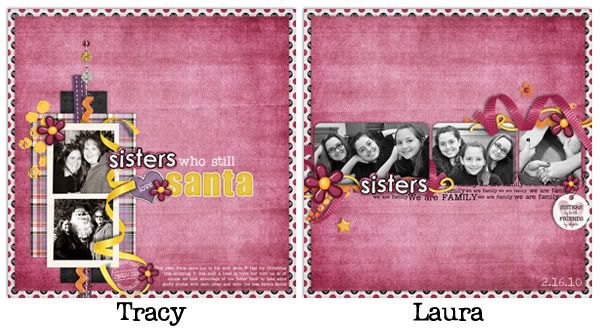 And of course, we've got lots of inspiration for you from both of our CTs and from the ScrapMatters CT - these girls ALWAYS amaze me!

My grab bag from last week
is also going to be unpacked and all the individual products will go into the store this weekend. TODAY is the last day you can purchase the grab bag and save almost 80% off the full purchase price of the individual products. So, don't delay and scoop it up before midnight if you haven't already! Here is a look (and links) for the individual products in the bag, as well as a new set of CU pearl styles I am releasing this week!
Icy Days mini kit by Trixie Scraps Designs
Through the Week templates vol 1 by Trixie Scraps Designs
Girls Love Pearls photoshop style set by Trixie Scraps Designs
- coordinates with the new Scrap Matters team collab!
A Mask a Day element pack vol. 1 by Trixie Scraps Designs
Very Vellum Journalers element pack vol. 1 by Trixie Scraps Designs
Your Days Are Numbered element pack vol. 1 by Trixie Scraps Designs
Alpha Tiles alpha pack vol. 1 by Trixie Scraps Designs
And finally!! A special offer for you... I have participated with a couple other designers from ScrapMatters to create this month's GORGEOUS new team collab, Captured Romance. This kit is just STUNNING and worth and up-close look!
Captured Romance by the Scrap Matters Designers
That's the scoop for this week! I'm busily working on my ADSR layouts for this week and hope to post them, along with a bunch of others I've done recently, sometime this weekend. And then I've been working on the next Project 365 grab bag, too - coming to you soon
Have a great weekend!
Hey everyone and good Friday morning to you! I'm so excited to bring you my newest kit this week! Slowly but surely, getting the mojo back. Let's hope the muse stays awhile, lol. First up is a brand new collab with one of my favorite partners (and buds!) Laura, of {simply.scraps}. Check out