Featured Designer sale at ScrapMatters
and my
New Designer sale at Scrapbook Bytes
- act fast to save 30% in either store! The graphics below are linked to my shops to make it easy to grab some last minute deals.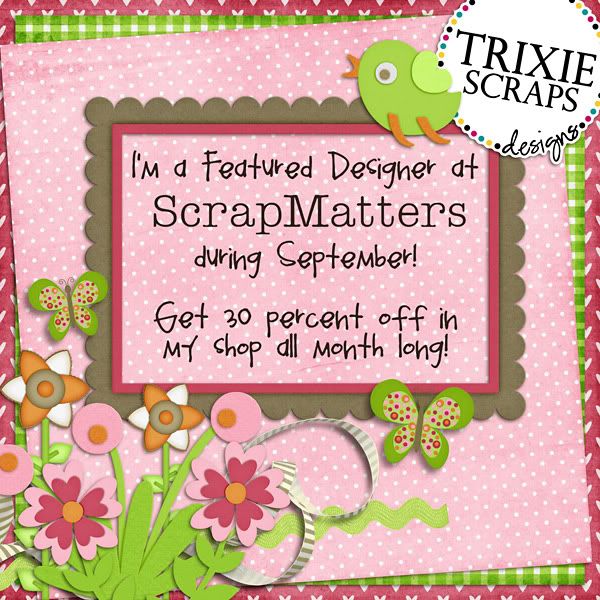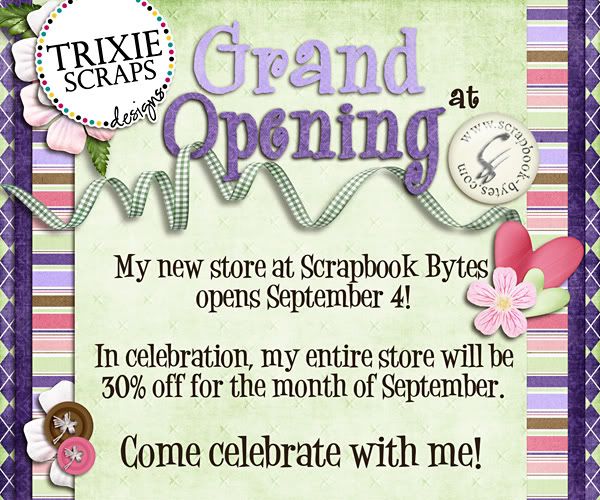 Also, just a reminder that today is the last day for my Featured Product sale at ScrapMatters. Buy it before midnight to save over 50% off the regular price of
Love My Guy!
_____________________________________________

OK, and then the Scrap Stars and I have some BIG NEWS!
We realize that EVERYONE is busy and keeping up with two different blogs might be more of a hassle than we ever intended. So, we have decided to merge the Scrap Stars blog with my blog. You'll still get all the same Trixie Scraps content - new releases, freebies, challenges and more - just now in one convenient place. COOL, right?? We're very excited about it. Watch for the blog merge to officially start tomorrow!
Along with the change, I've been working on overhauling the look of my entire site... and have paid some much needed attention to some of those links that used to be in my header that were (for many sad, neglected months) a fast track to nowhere. Not anymore!! The NEW
TrixieScraps.com
is just about complete and the team and I are thrilled to spread the word to all of you about it! So, what is new?
* First off, a new homepage at www.trixiescraps.com. It's nothing much - just a picture of me and a little bit about who I am (boring stuff, really!)

* The merged

blog

, with some streamlining in the sidebar over there on the right.

* My

personal store

has gotten a bit of a new wardrobe, but its pretty much the same!

* A brand new landing/sign-up page for my

weekly newsletter



* The long-awaited "TEAM" page - now you can see everyone's purdy mugs (as well as a link to everyone's blog and favorite gallery showcasing their work!)

*

A *new* Chat Room!

We expect to be having some fun there VERY soon. Stay tuned!

*

A *new* gallery!!

We are opening our gallery to the public and would love to see you all start sharing your layouts using my products. In fact, we'll be asking you to load any challenge layouts you do right into that gallery so we can easily oooh and aaah over your gorgeous work! The Scrap Stars have already been hard at work loading the gallery with lots of layouts... we're looking forward to welcoming you all in and watching the gallery grow even more. Please feel welcomed to sign up for a gallery account anytime!

* My

Terms of Use

(which were always there and haven't really changed)

* And a

Licensing page

, which is the final piece of the puzzle that I am working on finishing - but it only applies to blog/website designers. If that's you, stay tuned!
The new site is designed to streamline things - and to help keep our visitors from getting lost as they traverse different parts of the site. It's been a lot of hard work and I'm really proud of how its all turned out. I hope the result is a site you enjoy hanging out on!

So, stay tuned! I'll be back tomorrow (or maybe Lindsey will!) with my regular new release post, as always! It will also be Fun Font Friday, too! See you then!

Hey everyone!! I just wanted to pop in and remind you all that today is the final day of my