So, let me stop chatting and show you
my new goodies for this week
, all of which are on sale for 20% off through January 31st. Check out the store links at the bottom of this post to shop in your favorite store. First up, I'm happy to be bundling my "Bedtime Darling" pieces from the Grab-a-Byte sale earlier this month and bringing it to all my stores - plus, it's been expanded into a full collection with coordinating quickpages, clusters, wordart and more! This collection is perfect for all your photos and stories about bedtime routine with your littles!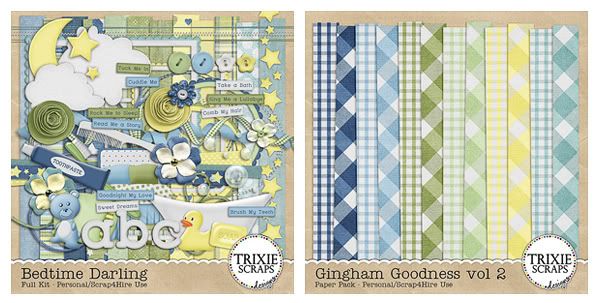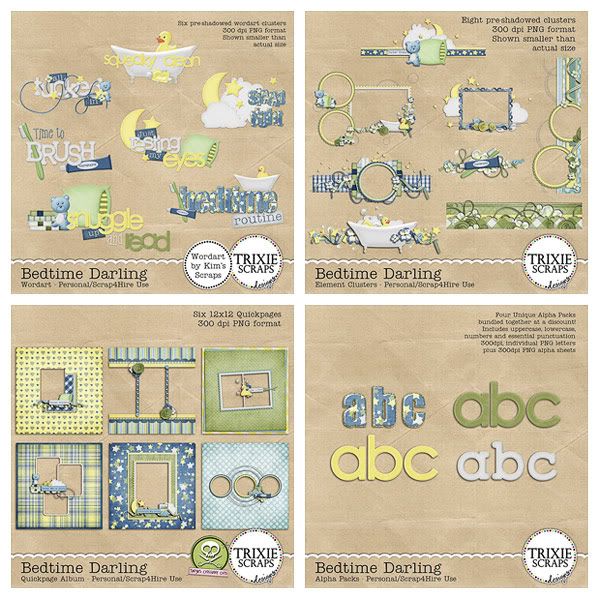 Also this week, Sharon and I have collaborated on some really fun hybrid party packs - one for the girly tea party set and one for the manly football-loving crowd! Both these sets include printable pieces to help you create the perfect party atmosphere and come complete with printing/assembling instructions.
And, a quick reminder/heads up on two other sale opportunities! Make sure not to miss today's Bargain-Bytes sale at Scrapbook-Bytes, where I have four great products on sale for just $2 each!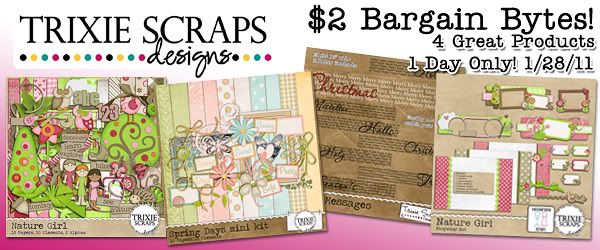 And, time is running out to snag this month's Templatetopia collection from North Meets South Studios - get them now while they are still 75% off!
Finally today, I have a great freebie for you created by my Scrap Star, Trista, using the Bedtime Darling collection. Thanks a bunch to Trista for this - just click on the preview below to scoop this one up for yourself (and say thanks to Trista, please)! Have a great, great weekend! Trixie Scraps
All Trixie Scraps Designs products can be found in the following online stores:
Trixie Scraps Shop * Scrap Matters * Gotta Pixel * Scrapbook Bytes * Funky Playground

Hello everyone and Happy Friday! I've had a very busy week here getting a bunch of new releases ready for my stores. Well... it might not have been so busy if I hadn't blown off work on Monday to spend the day with my husband... but everyone needs a break now and then, right? We took in a matinee showing of Little Fockers ... it was pretty funny and we enjoyed it!