That all said, let's move on to some happy news, ok? I did finally make some time to put a slew of new goodies into my stores this week and they are all 20% off now through August 4th, so don't miss them while you have a chance to save a little cash! Plus, I may have tucked a freebie in at the end of the post and I think you will love it. Wishing you all a superb weekend filled with hugs from those you love! ** Trixie **
First up this week is my Black Tie Event collection. It's perfect for all the formal events in your life from weddings to the prom and everything in between. The collection includes a full kit and five additional support products, helping you get those pages (and your blog) just right!
Black Tie Event Kit
Black Tie Event Cardstock
Black Tie Event Damask Papers
Black Tie Event Element Clusters
Black Tie Event Quickpages
Black Tie Event Blogwear
I've also got a few individual pieces to show you this week. First, I've got two new products to coordinate with my
Great Wilderness Lodge collection
. I'm adding some beautiful blogwear and fun new siggy tags.
Great Wilderness Lodge Blogwear
Great Wilderness Lodge Siggy Tags
And, to finish this weeks releases, I'm releasing a previous challenge freebie in my store this week. This fun mini kit coordinates with my
Old Glory collab collection
and is perfect to scrap all those patriotic pictures you took this month.
Old Glory Mini Kit
Now, how about that freebie! Just click on the image below to get your hands on these beautiful Black Tie coordinating frames. Carrin made these for you and they are just gorgeous - thanks, Carrin! :)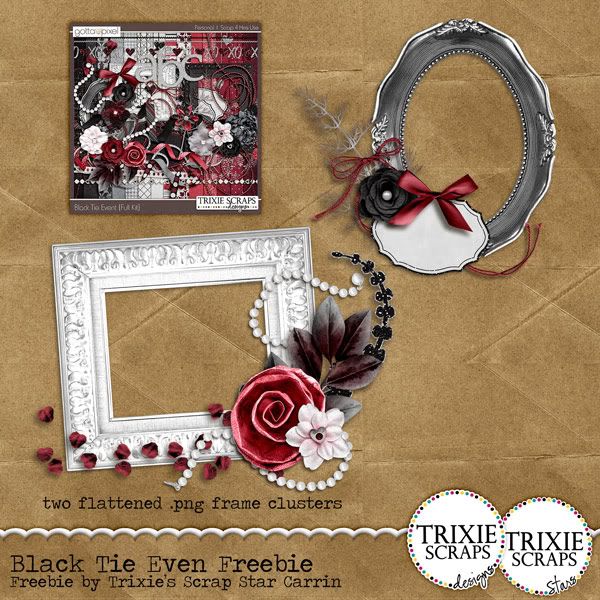 All Trixie Scraps Designs products can be found in the following online stores:
Trixie Scraps Shop * Gotta Pixel * Scrapbook Bytes * Funky Playground

Hi everyone! It seems like ages since I've sat down to write a new release post. That is probably because it's been at least three weeks, maybe more. In case you had not already heard, my father-in-law fell and suffered a severe brain injury early in the month. He has been in the ICU ever since and we are still sitting hospital vigil with him as often as possible, praying for his full recovery. It has left me little time to work... so I apologize for my long absence. I am trying to work a little balance into life again... I'm still in NJ right now, supporting my husband's family as best I can, but I'm also carving out a little bit of time each day to try anf get some work done. We've a long road ahead - your prayers are sincerely appreciated. My father-in-law's name is Marvin.