This week I'm releasing my Rescue Me Collection in all my shops. This super cute new collection is perfect for all you dog and cat lovers out there. The collection places a special emphasis on a cause close to my heart - animal rescue! But it's also plenty versatile for all your beloved pet pages. Each of these products can be found at the following stores and each will be 30% off for the rest of the month:

Trixie Scraps * Gotta Pixel * My Memories * Scrapbook Bytes * Funky Playground

Along with the kit, I'm releasing a ton of coordinating goodies to go along with it. Don't forget to nab these, too! I've got the third volume in my
Gingham Goodness Paper Pack
line, as well as Rescue Me themed
Cardstock
,
Clusters
,
Quickpages
,
Blogwear
, a
Brag Book for Dogs
and a
Bragbook for Cats
, too!
Want to be inspired? Here's some beautiful layouts from my Scrap Stars to take a look at!

And finally... how about a freebie? I created Quickpages from my own double-page layout with this collection and I'm sharing them with you! Just click on the preview below snag them and enjoy! Have a FANTASTIC weekend! ** Trixie **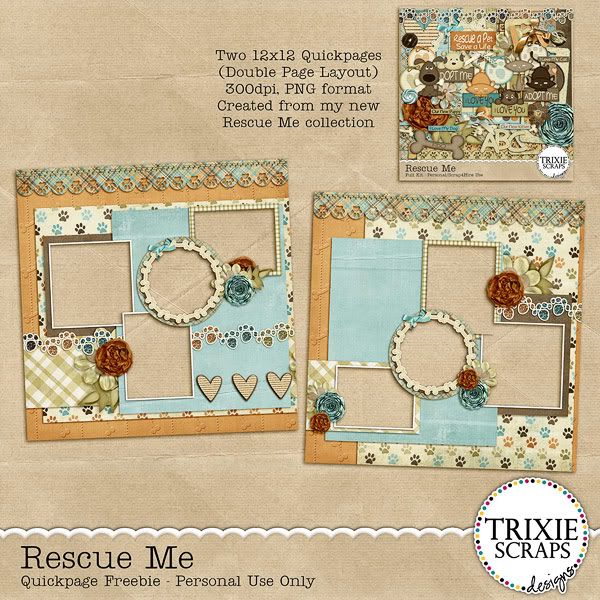 DOWNLOAD HERE
All Trixie Scraps Designs products can be found in the following online stores:
Trixie Scraps Shop * My Memories * Gotta Pixel * Scrapbook Bytes * Funky Playground