Hi everyone! Hope you are having a great start to your week. I'm stopping in with a bunch of new releases, and some of them are on sale only through today, so make sure you don't wait too long to grab these deals. Of course, I have a new freebie for you, too - you'll find it at the end of the post!
The Gotta Grab It sale for this month has been running for a couple days now, and I have the next new goodies in my "All About Me" series on sale for just $1 per piece ... but only through the end of today! All About Me: The Tweens is full of tween spunk, sass, and attitude. I "consulted" with Jessica, the tween daughter of one of my CT members, about the things that tweens like her consider cool and the result is this super fun collection of papers, elements and wordart. If glitter is your thing, and you love lots of flowers... this collection will definitely be something you find yourself reaching for often!

Moving right along, the September Grab-a-Byte sale at Scrapbook Bytes has also begun! I have long wanted to design a dog/cat kit, but there are so many on the market with a similar theme, that I kept tabling it. But, when I saw the swatch for this month's GAB, I knew it was perfect for this purpose. To keep things fresh, I put together a few pieces with a theme that's especially close to my heart: adopted and rescued animals. I have two rescued dogs at home who are both pitbull mixes. They surely would have both been destroyed if they had stayed in shelters, as sadly so many dogs are. My husband and I are both big advocates of pet adoptions (rather than pet purchases) and we spend our free time volunteering with dog rescue groups to move at-risk dogs from known "kill" shelters to foster homes, forever homes and safe "no kill" shelters while they await adoption. I hope you enjoy working with this collection and take some time to scrap some pages of the fur babies in your own life!
For the sale I've got four individual packs; three rescue-themed pieces and a coordinating paper pack:
Rescue Me Element Pack
Rescue Me Paper Pack
Rescue Me Embossed Cardstock
Gingham Goodness Vol 3 Paper Pack
Check out a few layouts from the team! The first is my own double-page layout created from Rescue Me. Then, I have four layouts from the Scrap Stars (two each with Rescue Me and All About Me: The Tweens). I hope you get some inspiration from these!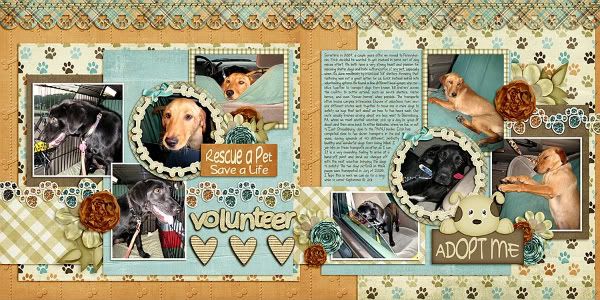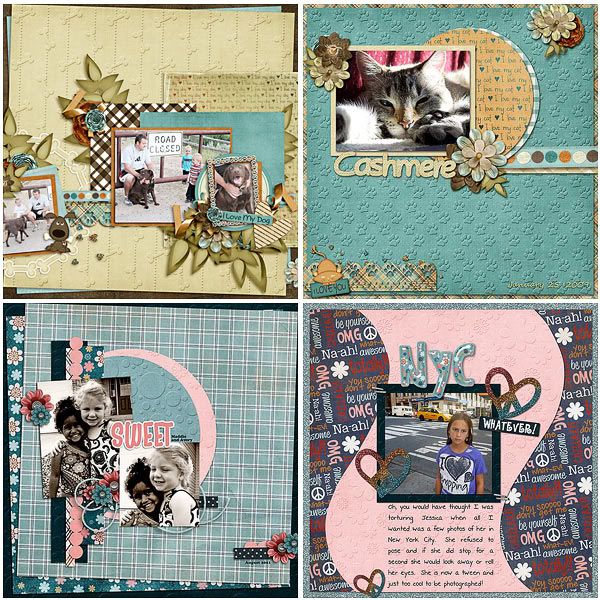 Before I go, I wanted to remind you that this is the final few days that you can grab the
August Templatetopia Grab Bag
before it is retired and broken up into individual template packs. You get four full packs (16 templates, in total) for the price of just one pack! It's a super steal of a deal from North Meets South (myself and Connie Prince) and it's only available through this Thursday night, so don't miss it!
You'll find my August Templatetopia collection here:
OK, and now how about that freebie I promised you?? Carrin created this adorable page starter for you from my Rescue Me collection -click on the preview below to snag it for yourself! And with that... have a great week. I'll be back on Friday with more new stuff!! :)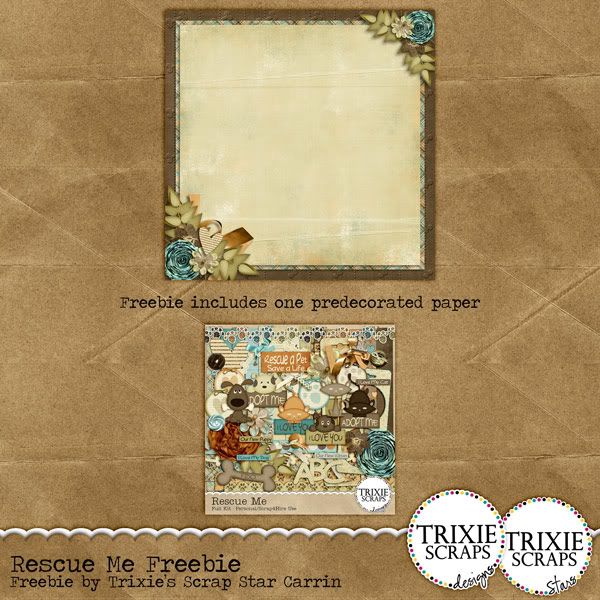 DOWNLOAD HERE
All Trixie Scraps Designs products can be found in the following online stores:
Trixie Scraps Shop * My Memories * Gotta Pixel * Scrapbook Bytes * Funky Playground