So, here she is!! Natural Beauty will be available all this month completely FREE to DST Gold members. You can check out
how to become a Gold Member here
. Also, I'd love to invite you to head to DST to
read my Featured Designer interview
, too! There is a
layout contest
you can play along with, as well - there will be four winners of gift certificates to my store, so don't miss your chance to win some more free stuff!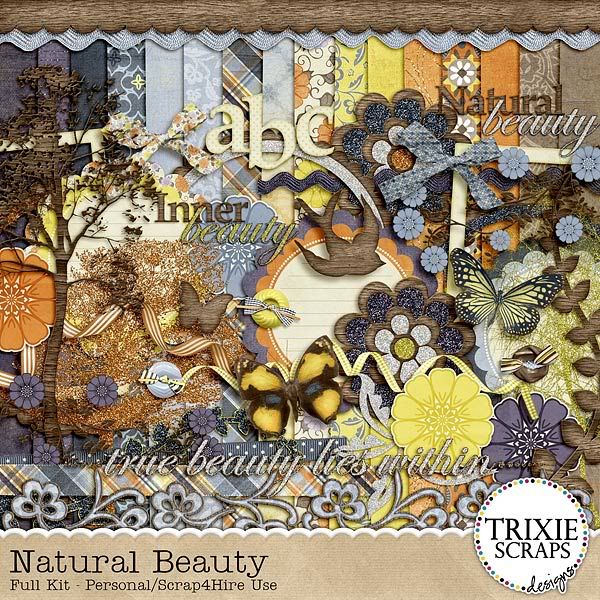 In celebration of my time in the spotlight, I've planned out an absolutely JAM PACKED month full of fun, PLUS
everything in my store is on SALE for 30% off!
Mark your calendar for all the fun events that are planned this month - see the schedule below and make sure not to miss a second of it!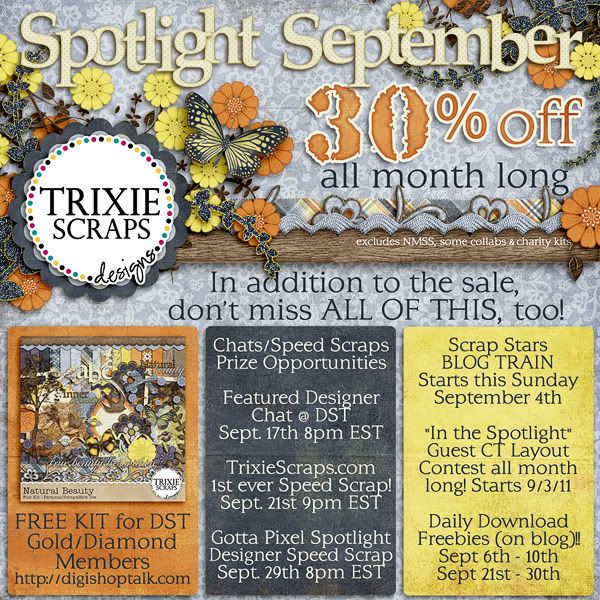 Finally... the reason you are here!! The Scrap Stars and I have gotten together to turn all of our pages with Natural Beauty into Quickpages and we're offering them on this Blog Train for FREE just for you! Here's a look at the Quickpage I have for you today - just click on the preview to download it!
Also, my Scrap Star Stacey does not have her own blog, but she created a beautiful page with the kit, so I am distributing her quick page here so that you don't have to miss out!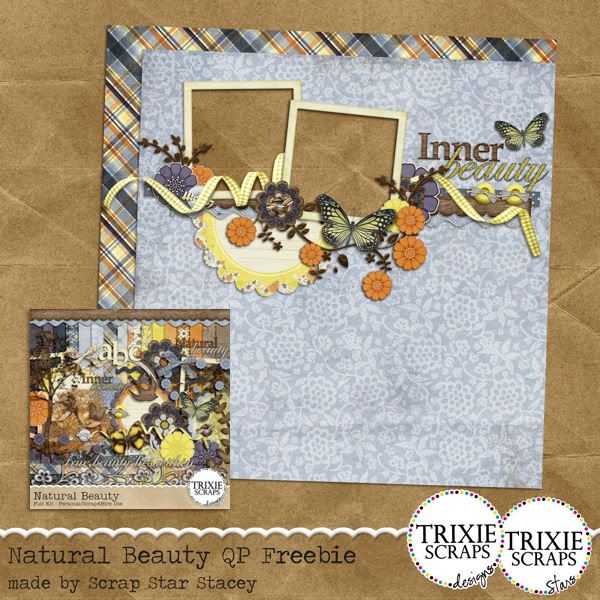 And now, here is a list with the rest of the stops! All the Scrap Stars should have their posts up around 8am EST today, but if the post is not there when you first check, please check back a little later... everyone will have their beautiful quickpages posted for you before too long! And trust me when I say, you don't want to miss even one of them - they are all gorgeous!
1. Tracy & Stacey - http://blog.trixiescraps.com ** YOU ARE HERE **
2. Cami http://camijoscraps.blogspot.com/

3. Lori Wentkie http://lwentkie.blogspot.com/

4. Jennifer http://jennibien.blogspot.com/

5. Jamie B http://scrappinframeofmind.blogspot.com

6. Stacy http://simplyscraps.blogspot.com

7. Erica http://digitalscraphappy.blogspot.com

8. Carolyn http://www.calliclaire.blogspot.com/

9. Shauna http://shaunas-world.blogspot.com

10. Bree http://breezecreations.blogspot.com

11. Beth http://scrappingbytrialanderror.blogspot.com/

12. Kris http://myworldinscraps.blogspot.com
I hope to see you this month at one of the chats or speed scraps I've scheduled and don't miss out on the extra freebies and sales this month - its going to be a GREAT month!
All Trixie Scraps Designs products can be found in the following online stores:
Trixie Scraps Shop * My Memories * Gotta Pixel * Scrapbook Bytes * Funky Playground

Have you heard that I am this month's Featured Designer at Digishoptalk? I have to tell you... when I was chosen for this honor late last year, I felt a combination of elation and terror! It's such an awesome opportunity and I'm very thankful to the people at DST for offering me a spot this year. As part of the gig, I was asked to create a free kit download for all the Gold/Diamond DST members. That's where the terror came in... I put a lot of pressure on myself to make my kit the absolute best and I truly hope you LOVE this kit.