Hi everyone! Hope you've been having a great week! I have had a fun, but busy, week! On Monday, I had the pleasure of visiting with one of my cousins and her husband for dinner, then they came back to our house for dessert. I made these AMAZING Caramel Apple Cheesecake Bars from Mel's Kitchen Cafe for dessert. Let me tell you... they are HEAVEN on a plate. I highly recommend you try them!
Otherwise, I spent the week working double-time because we are going on vacation next week (seven fun-filled days in Orlando with one of my other cousins, her husband, and their two adorable boys). We're super excited and can't wait to leave. But, that also means I've been trying to wrap up as much work as possible before we go, so I've been super productive! I can't wait to roll everything out to you over the coming weeks. For this week, I have a
brand new October Templatetopia set
with Connie Prince that is now on sale for just $3.99. As always, this awesome template grab bag includes four full-sized template packs in PSD, TIF, and PNG format. Plus, if you use Creative Memories' Storybook Creator software, you are in luck, because we include PAGE format files just for you! The four packs included in this month's grab bag are fully revealed in the shop - so make sure you check out those detail images to see the great packs inside.
Available at:
Trixie Scraps Shop * Gotta Pixel * Scrapbook-Bytes * Funky Playground
Also, this week I have bundled some of my Gotta Grab It pieces into a kit and put it, plus the entire collection of coordinating products (nine in all) on sale for 30% off. After this week, it will all go back to regular price, so if you missed any of this while it was on Gotta Grab It sale, make sure to snag it now while you can still save a bunch! A Grand Day is a celebration of the bond shared between a boy and his grandpa... between a girl and her grandma... and so much more! Best of all, the beautiful patterns, elements and colors of this collection make it suitable for scrapping lots of everyday family moments, as well.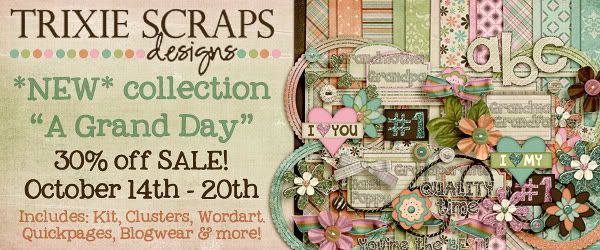 The collection includes the full kit, coordinating clusters, wordart, quickpages, page starters and cardstock. Plus, check out the badge album, blogwear or siggy templates, too!
All of "A Grand Day" collection pieces can be found at the following stores:
Trixie Scraps Shop * Gotta Pixel * Scrapbook-Bytes * Funky Playground * My Memories
Of course, I have a new freebie for you, too! Carrin cooked up this awesome set of wordart and included MOST of the variations for grandma and grandpa that you can think of. Of course, they perfectly coordinate with "A Grand Day" - click on the preview below to collect them and ENJOY! Have a super weekend! ** Trixie **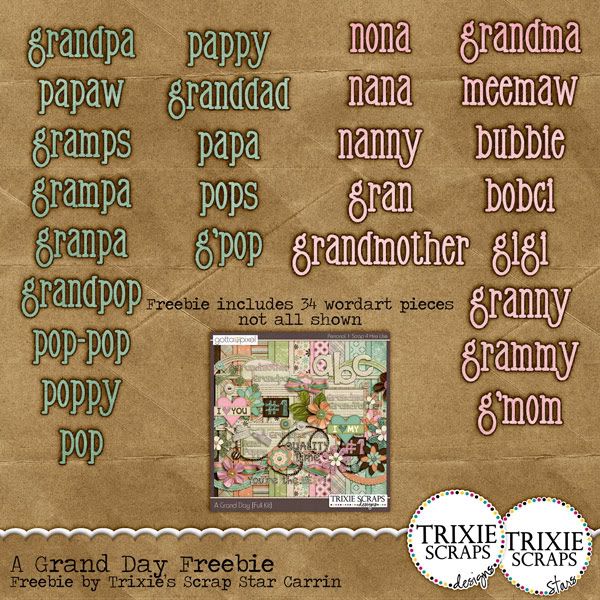 DOWNLOAD HERE
All Trixie Scraps Designs products can be found in the following online stores:
Trixie Scraps Shop * My Memories * Gotta Pixel * Scrapbook Bytes * Funky Playground