It's Black Friday and you know what that means, right?? I have a HUGE bunch of great new products and incredible deals for all of you! I've been working double-time this whole last week to stock my store with grab bags and new goodies - I'm sure you'll find something that you've just gotta have. And, for those who have wishlisted items from my store these last months, I've got a great sale AND my "Make Your Own" grab bag offer is back... you just can't go wrong!
So, first up, I wanted to let you know that, of course, everything on my store is on sale! Save at least 40% on everything in my shop. PLUS! If you spend $10 or more between now and the close of business on Cyber Monday, you'll be entered to win a bonus $50 shopping spree in my store. Now that is something you surely don't want to miss! Note, Connie and I have put all of our North Meets South products on sale, too!
That said, let's get on with the new goodies - all of which can be found in each of my shops at:
Trixie Scraps Shop
*
Gotta Pixel
*
Scrapbook-Bytes
*
Funky Playground
To start off this weekend, I have three Grab Bags now available in all my shops! Yes, I said three! First off and back by popular demand, I am once again offering my Black Friday
Make Your Own Grab Bag
. For just $4, you can choose any two non-collab kits from my store, plus any ONE template, quickpage or element/paper pack to go with them. When you purchase the grab bag, you receive a voucher for the two kits and one template/quickpage/element pack -
this Grab Bag is only available through November 28, so jump on this incredible deal now!
I also have a brand new, holiday-themed Grab Bag for only $5.
31 Days Has December
is crammed full of $18 worth of products and includes five full-size products, just in time for the holidays. Included in the bag is a new kit, a matching embossed cardstock pack, a new set of journaling cards, some fabulous templates and a set of date tags. If you want to get a look at each of the packs, be sure to check out the detailed images in my shop!
The last of this weekend's Grab Bags is a
North Meets South Studios CU Grab Bag
and is available until November 30. This awesome bag includes four brand new commercial use packs from Connie and I, including some new pattern overlays, a set of embossing overlays, a pack of holiday ribbons and a set of mixed holiday elements, too. Designers, put it all together for your next fabulous kit - it's a steal at just $5!
Now, along with these fabulous Grab Bags, I also have a ton of new releases to show you. First up, I have
my newest collection, "A Thankful Heart."
. This collection consists of
the full Kit
, plus six coordinating pieces: beautiful
embossed cardstock
, coordinating
element clusters
, pretty
page starters
, a fabulous set of
quickpages
, my newest set of
blogwear
, and a great little
a 5 x 7 Brag Book
, too!
And finally, just to round things out, I've added a couple more stand-alone products this week. My
Plaid Passion: Fall Dusk
paper pack and
Alphabits: Fall Dusk
were both formerly freebies offered on the blog, that are now available for sale, in case you missed them. And, for those who love signature tags, I've got a great new mixed pack of holiday-worthy tags for you - my
Holiday Sampler Siggy Tags.
WHEW!! Dizzy yet? Well, one final note involves a couple freebies, so don't leave just yet! First, I want to make sure you don't miss the Scrapbook-Bytes Facebook hop - the freebie I have for you is shown below and can only be found on
my Facebook page
.
And, a little birdie told me there just might be some extra Black Friday coupons in the download, so I wanted to be sure to pass that along!
*smile*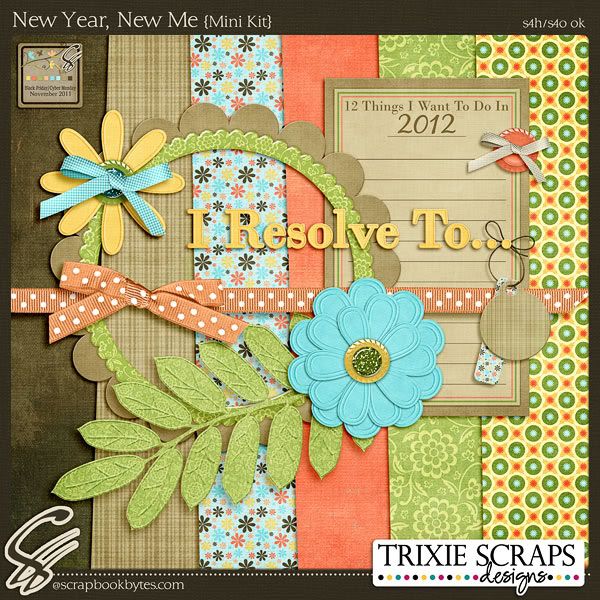 And finally, here is a new freebie for you today made by my fabulous Scrap Star Carrin using the goodies in the 31 Days Has December grab bag! Just
click on the preview below to grab the download.
ENJOY! Thanks for shopping with me this weekend - I appreciate you!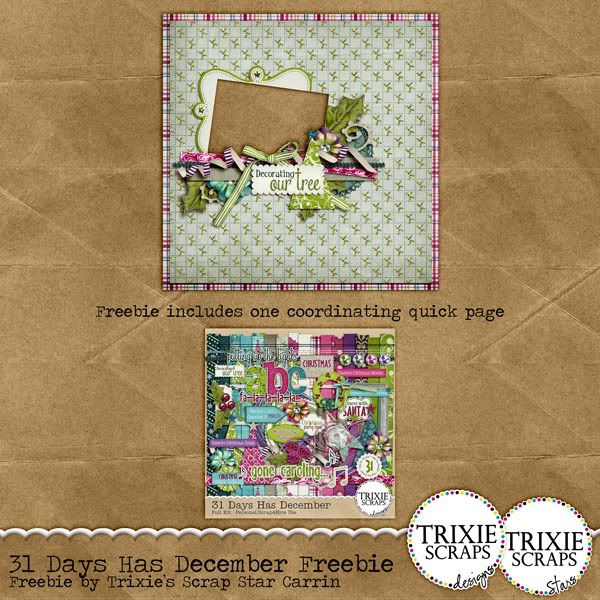 All Trixie Scraps Designs products can be found in the following online stores:
Trixie Scraps Shop * My Memories * Gotta Pixel * Scrapbook Bytes * Funky Playground