Amy here to bring you another installment of Special Request Sunday. Are there any types of elements have you been searching/wishing for lately? Name them here in the comments and Trixie will pick out one of the ideas, create an element pack and the person who suggested the chosen idea will get the pack for free! Sounds fun, right? Start suggesting away!
After many great ideas, Tracy finally was able to pick a winner. Are you excited??? Are you ready to find out who that special someone is??
Drum Roll please....................................
MK was chosen for leaving this comment: "I have really been wanting a very inclusive dating package. With stamp type dates that don't over monopolize when you put them on your page. I like a tag option too with them. Something that offers quite a few ways of putting them together, both on and off tags."
Well, MK, I think Tracy has outdone herself with the element pack she has come up with. What do you think??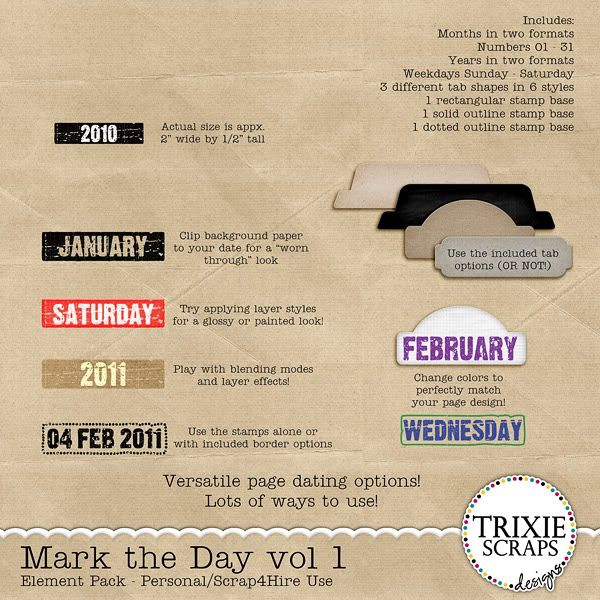 MK will receive this element pack for free since it was her idea!! All others who left suggestions will receive a discount coupon to purchase it when it is released on February 4. Please e-mail Tracy at
ctstars@trixiescraps.com
with your e-mail so that the coupons can be sent to you.
Congrats, MK, and thanks for such a great suggestion!!
All Trixie Scraps Designs products can be found in the following online stores:
Trixie Scraps Shop * Scrap Matters * Gotta Pixel * Scrapbook Bytes * Funky Playground

Hello, everyone!! Lori here (aka beancounter) bringing you the exciting announcement of who that lucky winner is from our Special Request Sunday back on January 16. In case you missed that post, or just need a reminder, Amy posted this: