Hello scrappers and HAPPY FRIDAY! I'm telling you, it has been one heck of a long week here in eastern PA. It has been raining a ton and that makes me grumpy for some strange reason! LOL. I hope you've had nicer weather in your part of the world this week (it would not have been hard to accomplish, that is for certain). Enough grumbling from me, though... you're here to see the new goodies I have for you! This week, I'm releasing a couple template packs that were formerly part of August's Templatetopia collection, as well as a mini kit that was formerly part of the August blog train I participated in. If you missed either, now is your chance to grab them (on sale!).
Speaking of sales, I'd be remiss if I did not remind you that today is the last day of my Spotlight September sale (and also the last day you can grab the Featured Designer kit at DST, too)! So, don't miss your last chance this month to snag a bunch of goodies for 30% off. The sale is active in each of my stores - shop in your favorite locale without worrying about finding a better price elsewhere.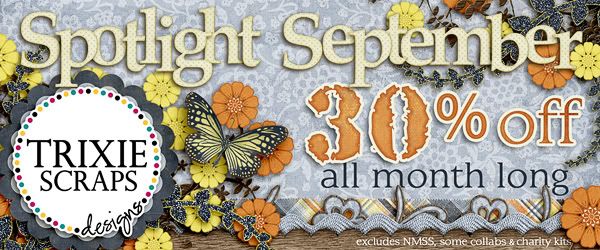 And now on to the new stuff! The template packs I included in my August Templatetopia grab bag were a lot of fun to create and I'm pleased to be bringing them to you now as individual packs available for purchase. You can choose from either
Greatest Hits 6
(based on four of my very own layouts) or
Cool Clusters 2
, some fun clustered-up layouts featuring multiple photos and lots of paper stacking. Both packs come in PSD, TIF, PNG and of course PAGE format (for Creative Memories Storybook Creator users).

Also new in the store this week is my Flower Power mini kit. I had a lot of fun with this one, challenging myself to find my inner hippy (which is so NOT me, lol). I love the fun flower patterns and peace symbols and I hope you have a ball scrapping some groovy photos with this mini!
That said, my week was kinda crazy preparing for some upcoming big changes and I lost site of the daily freebies I was sharing the last few days of the month. So, today I'm going to pass on one of the freebies I missed earlier this week. Carrin created a great new quickpage for you from Great Wilderness Lodge, a kit that was spotlighted at Gotta Pixel earlier this week. This quickpage is adorable - I hope you have a lot of fun using it. Click on the preview below to download it and as always, enjoy your weekend!! ** Trixie **
All Trixie Scraps Designs products can be found in the following online stores:
Trixie Scraps Shop * My Memories * Gotta Pixel * Scrapbook Bytes * Funky Playground