All my releases can be found on sale this weekend at the following stores:
First of all, I'm so excited to be releasing the newest kit from North Meets South Studios,
Roll With It
. This bright, happy kit is perfect for scrapping rollerskating moments, party photos, and just about everything else! Grab it this weekend for 30% off! *Please note, this kit will not available for sale at Pickleberrypop, but you will find it in all my other stores listed above!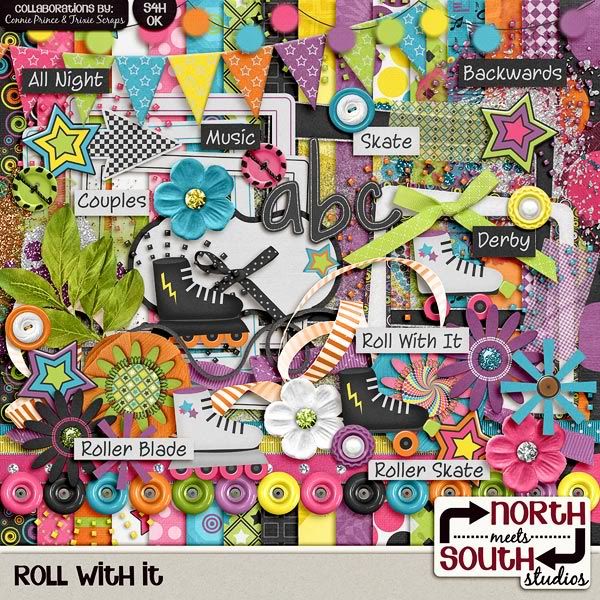 I'm also releasing two full collections this weekend! The first is You Raise Me Up. This was part of my Grab a Byte sale earlier this month at Scrapbook Bytes, but is now available in each of my stores. The collection includes
the kit
,
cardstock
,
glitter papers
,
krafty plaids
,
element clusters
,
wordart clusters
,
journal cards
, and
quickpages
. They are all on sale this weekend for 20% off!
The next collection coming your way this week is Just One Kiss. This was previously part of the Pickle Barrel Sale at PickleBerryPop, but now it's available in each of my stores. Grab it this weekend, and you'll get 20% off! The pieces of this collection include
the kit
,
cardstock
,
glitter papers
,
sunburst papers
,
element clusters
,
wordart clusters
, and a
bonus alpha
.
Now, before I go... I have an extra little surprise! It's my birthday on Sunday and of course, I have to pass on some fun to all of you, right? I'm turning 36, so I decided to share a coupon with all of you for 36% off! It's good for just ONE use in one of my stores and it expires Sunday night. You may use this on everything in my store EXCEPT for bundles... so have fun shopping at a discount this weekend!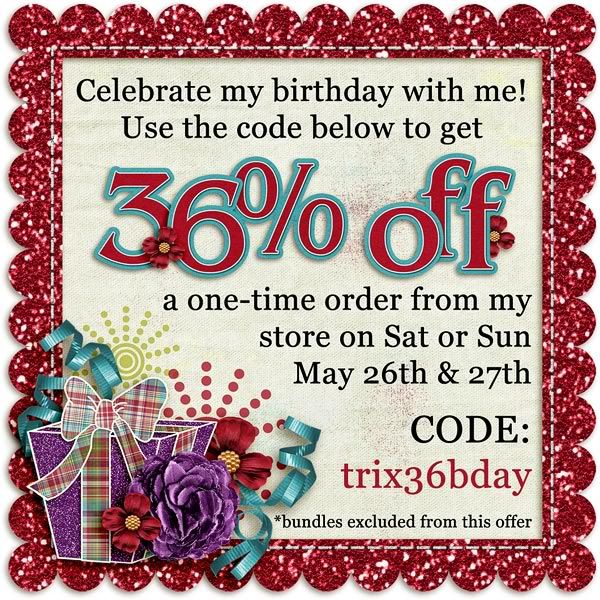 Finally, I have a great new freebie for you, too! Mary Kate was nice enough to make this Page Starter for us from my Just One Kiss collection - isn't it pretty? Click on the preview below to download it and have a great weekend! I'll be here busily working on moving over all my essential files to my BRAND NEW laptop that my husband bought me for my birthday... he's the best!! :)
All Trixie Scraps Designs products can be found in the following online stores:
Trixie Scraps Shop * My Memories * Gotta Pixel * Scrapbook Bytes * PickleBerryPop

Hi everyone! I'm stopping in to show you everything that I added to my stores this weekend... and there's a lot to show you (plus, a special coupon and a freebie at the end), so let's get right to it!