Remembering You
is my attempt to put those emotions into kit form - my hope is that it becomes a collection you reach for whenever you want to scrap about someone you really miss! I also have two brand new template packs included in this month's sale - here's a look at everything!
Remembering You Kit Papers

Remembering You Kit Elements/Alpha
Remembering You Plaids & Ginghams
Remembering You Journal Bits
Remembering You Embossed Cardstock
Collage Collectors, vol 1 Templates
- use these in any number of unlimited ways! Clip papers and photos to the pre-arranged grids, add the completed collages to your choice of background paper(s) and embellish as desired for a super quick and beautiful page!
And finally,
Layer Lovers vol 1 Templates
- I've done all the layering guesswork for you! Simply clip your choice of papers to the shapes, add in your photos and any other embellishments you wish - choose a great background and you have a completed page in a flash! Layer Lovers would be awesome when combined with any of the Page Starters in my store for super quick pages!
Here's a couple of beautiful layouts from my team to help inspire you to use this new collection - thanks for looking and enjoy the GGI sale!
This beautiful layout is by StaceyA:
Here's another stunner by Carrin:
And check out this one by Stacy:
I have a freebie for you today, too! I took some time this morning to make you a page starter and a little cluster that coordinates with it from this new collection. You can snag it on by clicking on the preview or download link below. Enjoy! **Trixie Scraps**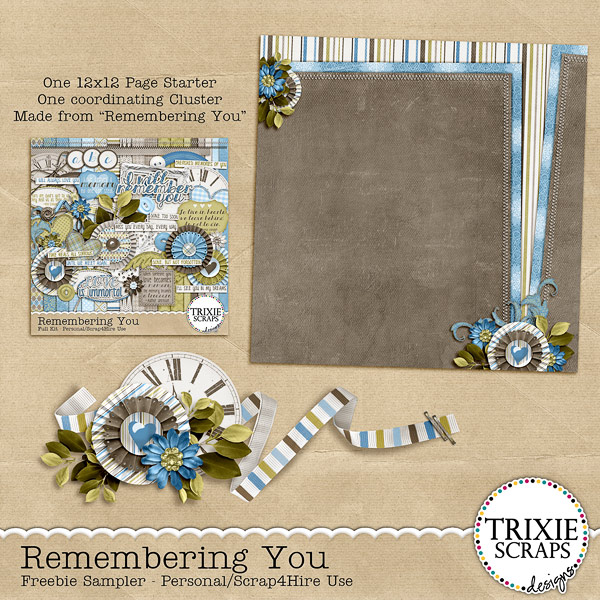 All Trixie Scraps Designs products can be found in the following online stores:
Trixie Scraps Shop * My Memories * Gotta Pixel * Scrapbook Bytes

Hi everyone! I hope you're enjoying this month's Gotta Grab It sale at Gotta Pixel - isn't the color palette so pretty? I really loved it! One of my team members had requested I make her a memorial kit and when I saw the palette this month, I knew I wanted to use it for that theme. As I worked on my collection this month, I was thinking about my sweet father-in-law Marvin. We just passed the one year anniversary since the accident that eventually took him from us in October and I still think of him and miss him every day.