I'm not so great at the paper and pen journaling/diary keeping. I know it's important for future generations, I'm just not very good at doing it. This is why I journal on most of my scrapbook pages. I feel like I'm killing two birds with one stone with my scrapbooking. That being said, if my scrapbooks are serving as my journal, isn't it important to have my own handwriting on at least a few pages?
Some of you may be wondering how you get your handwriting onto your digital pages. The answer is simple. You simply create a font. And yes, it really is simple.
In my quest for ways to create my handwriting as a font, I've come across 3 ways to do this.
#1. The FREE Way
- In your internet browser go to www.myscriptfont.com
- There you will download a template that looks like this: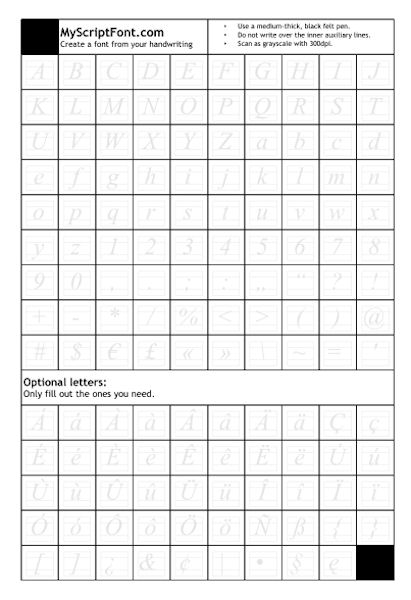 - Fill in the template in your handwriting (I would suggest following the directions EXACTLY)
- Scan the template back into your computer and save
- Upload the template to the site
- In a few minutes you'll have a download link to save your handwriting as a font
- Install your font
- Use your handwriting on all your pages
Here's a snippet of the font I created using this site:

#2. The $10 Way
- In your internet browser go to www.yourfonts.com
- Again you'll download their template
- Fill out their template
- Scan the template into your computer and save the file
- Upload the template to their site
- Download your new font
- Start using your font
This is the snippet of the font I created quite awhile ago using this site:

I don't think I used the right kind of pen, so I have a few rugged edges with this font, but I still like it.
The 3rd option is quite a bit pricey, but it may be something to look into if you have a bunch of family members that you'd like to have fonts for or if you find you really just enjoy making fonts. It's a program called
Font Creator
and it's about $80.00. Like I said, pricey - but it may be something you've been searching for. I haven't gotten this program yet, because I'm still trying to decide if I'd use it enough to justify spending $80.00.
Some of the CT members had a few sites to add that they've come across to make fonts.
If you have an ipad, you should check out the app called iFontMaker and if you're really into creating your own fonts and you don't have the $80 to spend, check out
FontStruct
, it's free and it looks like a fun way to
make quite a few different fonts. Here's a little snippet of a font made with the ipad app:

So, now that you know how to get your handwriting made into a font - do it and start using them on your pages. Just like I did with this page I made using
I'll Be There
.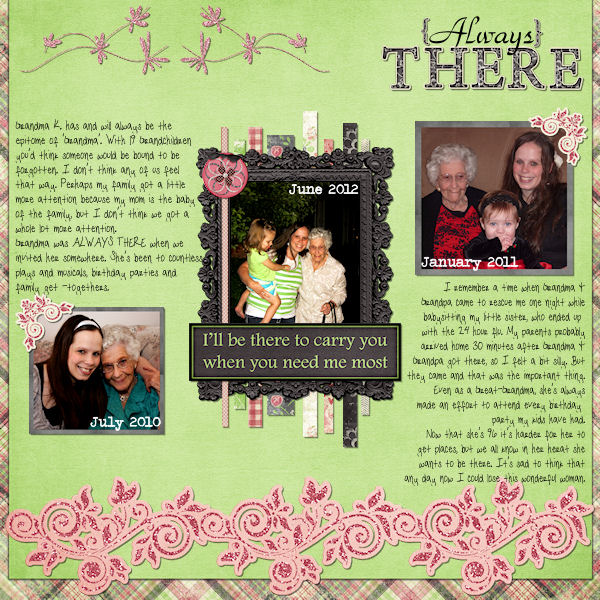 *** Just a note (while I'm on the subject of my scrapbooking serving as my journal)...You'll notice that in this page I just put my Grandmother's last name initial. That is just for safety reasons on the internet. For my own personal uses and when I print it out I have a page with her last name. It is important to document details like that for future generations...***
All Trixie Scraps Designs products can be found in the following online stores:
Trixie Scraps Shop * My Memories * Gotta Pixel * Scrapbook Bytes

One thing I've always loved about scrapbooking is fonts. I'm not a fan of my handwriting, so I was thrilled to have so many options for my pages. As time went on and I've learned more about scrapbooking and I've realized just how important it is to include my own handwriting on my pages.