It's Tuesday and that means Trixie is generously offering up two of her kits for just $2 a piece.  For today, and today only, you can snag Carving Up Fun and Tuscan Fall for just $2 each!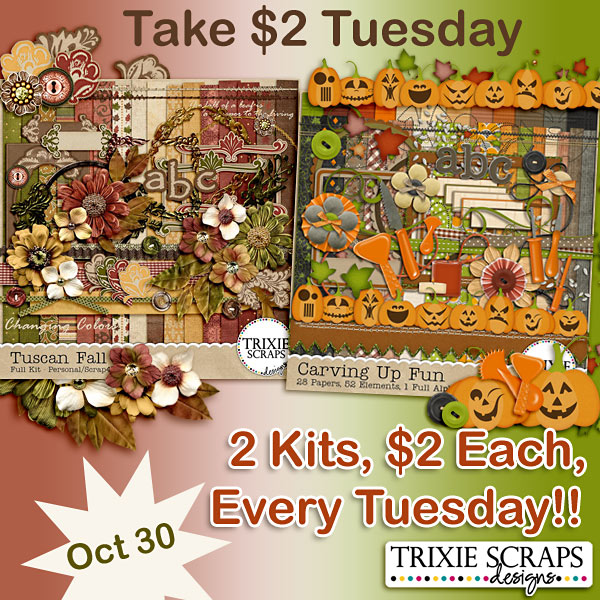 If the price alone doesn't have you convinced, take a look at a few lovely layouts created by some of Trixie's Scrap Stars.  
Carving Up Fun is an adorable kit, perfect for all those pumpkin patch and pumpkin carving pics.  The kit is done in a yummy fall color palette and includes a bunch of cute jack-o-lantern elements and carving tools to accompany your photos.
by Mary Kate, using Carving Up Fun

by Stacey, using Carving Up Fun

by Trixie herself, using Carving Up Fun

Tuscan Fall is another gorgeous kit, overflowing with the rich colors of autumn.  With this kit, Trixie has included plenty of flowers and foliage along with several ornate and antique pieces, making it perfect for anything from your fun fall photos to your old family pics!
by Beth, using Tuscan Fall

by Erica, using Tuscan Fall

and lastly by Trixie, using Tuscan Fall

Head on over to the Trixie Scraps store and pick up these two beautiful kits, but hurry...the $2 sale ends tonight!
All Trixie Scraps Designs products can be found in the following online stores:
Trixie Scraps Shop * My Memories * Gotta Pixel * Scrapbook Bytes