In case you missed it, Trixie Scraps Designs is in the designer spotlight at Gotta Pixel through October 26th! That means lots of freebies and sales: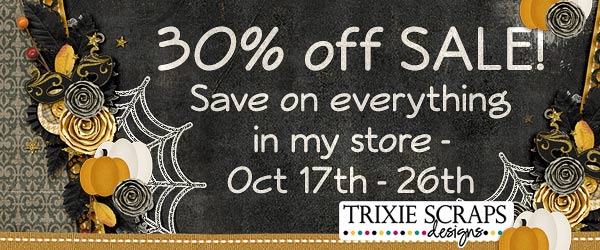 We all have them, taunting us, making us miserable - imperfect photos. That brilliant shot that was blurry or over exposed. The one photo that best defines a story to tell, but looks, well, not so great. This week Erica challenged us to look past the imperfections and scrap a story with an
imperfect photo
. Play along with your favorite Trixie Scraps products, load your page into the
gallery
and you could be a
show-off
and get a great prize!
There's lots of inspiration to be found in the
Saturday with the Stars
as we take a look back at layouts with with recent Trixie Scraps releases. Don't miss this if you need a mojo jumpstart!
We love learning about scrappers in the digi-community, so once a month we feature a scrapper who's pages find their way into the Trixie Scraps Gallery. This month our featured scrapper is
Debora, AKA boba80
. Learn a little bit about Debora and take a look at her awesome pages this month!
In this weeks

Masters Monday you can learn all about siggy making

. It's a quick, easy way to dress up your signature line in whatever forums you frequent around the digi community, and can even be used on your blog! Be sure to take a look and create your own custom siggy!

Have a great week!

This has been a very busy week on the blog, so let's get started with your weekly review!