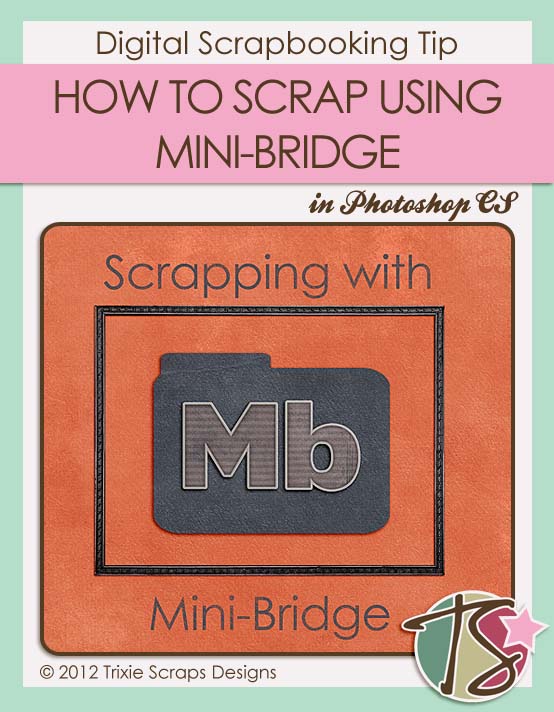 One of the most misunderstood and underused programs for digital scrabookers is Adobe Bridge. Usually bundled with Photoshop Creative Suite, Bridge is a powerful organizing tool for images of all sorts. It was created to work alongside Photoshop, but because it can get bloated and slow, was never really widely adopted by most digital scrapbookers.
There's hope yet though because Photoshop Creative Suite 5 introduced a new feature - Mini-Bridge!
Mini-Bridge operates inside of Photoshop using the powerful capabilities of Bridge, and is activated by clicking on the Mini-Bridge button, which is usually docked on the right side of Photoshop, by the layer palette. It appears as a file folder with Mb on the front.

When you click on it, a fly-out menu will open that looks like this: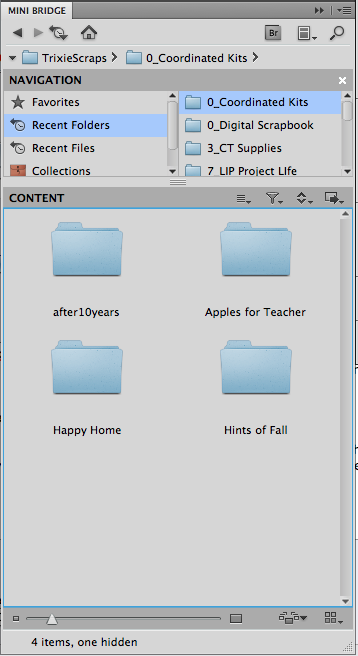 Here you can see my Trixie Scraps Kits neatly displayed as file folders.
When I double click on a folder it opens and displays the contents. I have my kits and supplies organized in a file structure and Mini-bridge allows me to browse through my files without exiting Photoshop.
Here are the contents of my paper file from the kit
After 10 Years
: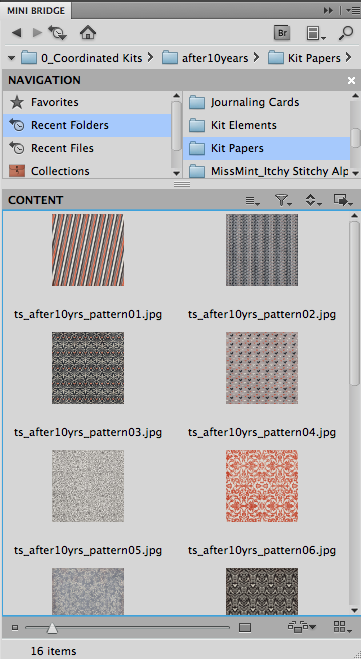 I can scroll through all of the kit papers before choosing my favorite. The best thing is that I can drag my paper from the mini-bridge tray onto my palette and Photoshop turns it into a smart object, automatically resizing it to fit on my palette. This is especially handy when creating a page or card that is not a standard 12x12.
The same is true for elements, as you can see, even PNG files are displayed clearly, and items are resized to fit the palette when they are dragged out of the mini-bridge tray.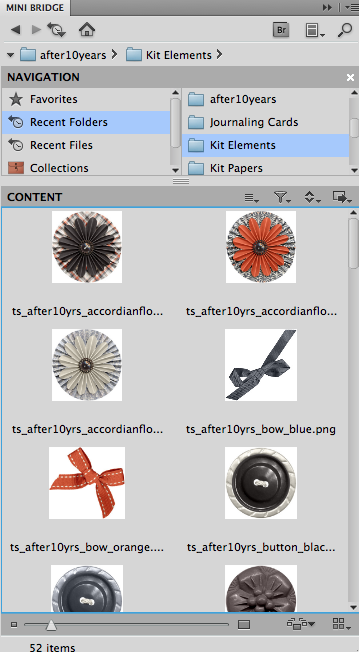 I love that I can clearly see the details of the buttons and other small elements, which is harder to do in Finder (or Explorer on Windows machines).
Having all of my supplies easily accessible in Photoshop has really helped me speed up my memory-keeping. I hope that if you already own Photoshop Creative Suite 5 or above that you will give Mini-Bridge a try!
All Trixie Scraps Designs products can be found in the following online stores:
Trixie Scraps Shop * My Memories * Gotta Pixel * Scrapbook Bytes