Hello everyone.  Welcome to this week's Take $2 Tuesday.  I hope you didn't spend all of your money on this weekends Black Friday and Cyber Monday sales because we have a couple of fabulous kits on special for you today.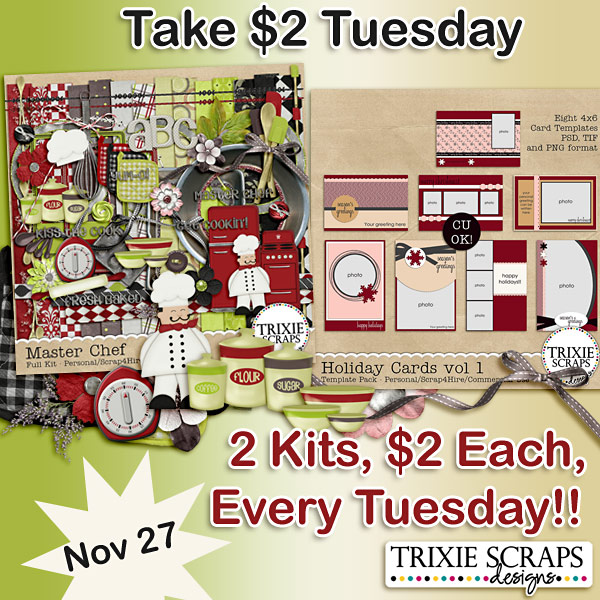 First off we have Master Chef, a great kit for scrapping all of your kitchen adventures.
I really love all of the bright patterned papers in this kit and the fun kitchen themed elements and word art.  Just think of all the great layouts you could create with this kit and your best holiday cooking pictures.  Not convinced?  Take a look at some of the lovely pages that the Scrap Stars cooked up.
The second kit we have for you to a fantastic template pack that is just perfect for the coming holiday season.
Holiday Cards Volume 1 gives you eight fantastic templates for creating your very own customized 4x6 holiday cards.  Pick this kit up and get a head start on your list so you can have your cards in the mail in time for the holidays.  Here are just a few elegant examples of cards that were created using this versatile pack.
Remember, both of these packs are on sale for only $2, but the sale only lasts for one day.  Be sure to snatch these up while you can at any Trixie Scraps store.
All Trixie Scraps Designs products can be found in the following online stores:
Trixie Scraps Shop * My Memories * Gotta Pixel * Scrapbook Bytes