First up, we've got
Presents Everywhere
. I love this kit. There's so many fun elements and quirky word strips to use.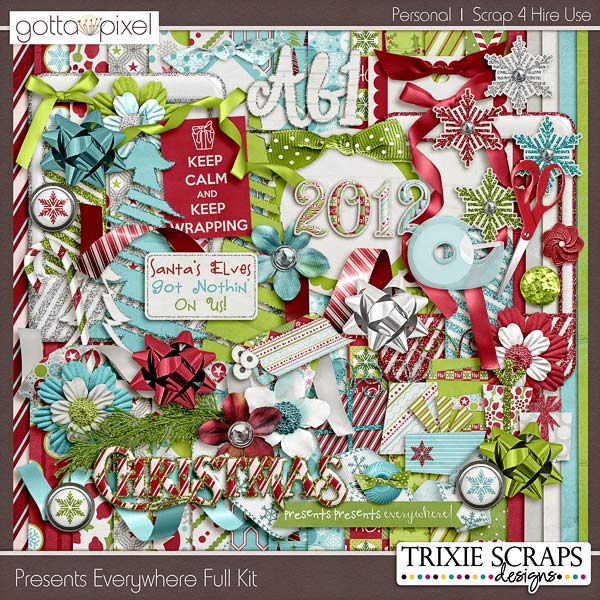 Let's take a look at a couple layouts from our stars:
Shawna's layout is a great one for this kit. I love her title and then the mischievous look in the eyes in the bottom photo. Shawna has some wonderful clusters that really add some spunk to her layout.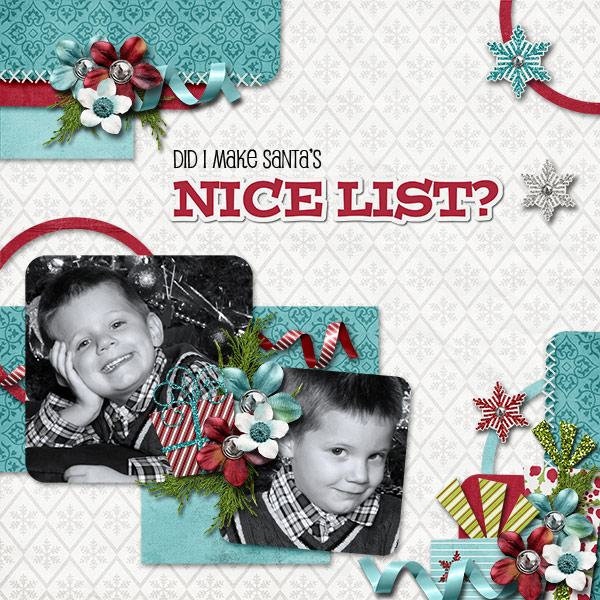 Looking at Helen's layout, you'd think this kit was made just for her. I love that she got a picture of so many gifts and that this kit came about to scrap that picture with. I especially like that Helen included the Santa's Elves quote with this layout - it fits perfectly.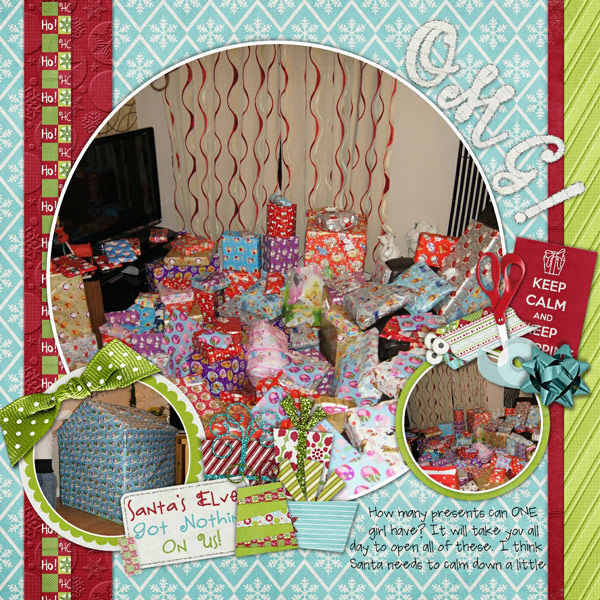 The next kit that was released is called
Winter Carolers
and it is one of the most beautiful kits I've ever seen. I love all the glitters and the music notes as well as the papers.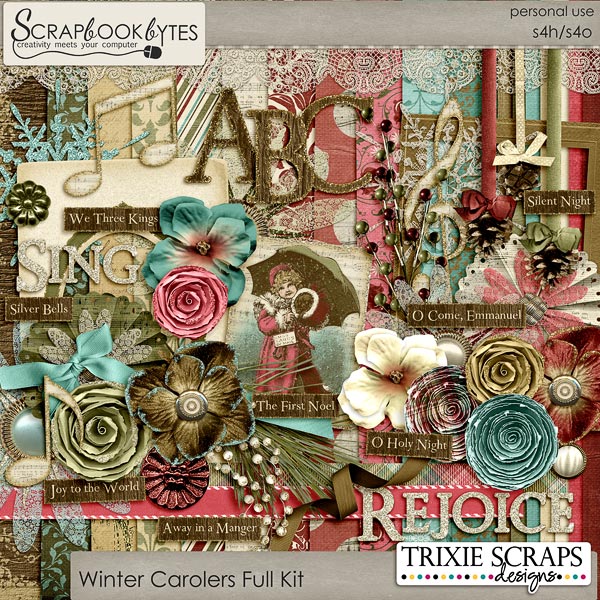 I absolutely love Lori's page. Sometimes I wish I had been born in the good ol' days and her page brings me right to that place. I love that she used one main paper for her background and then just accented with smaller strips of paper. I also love the photo. Such a nice change from all the photos of kids sitting on Santa's lap.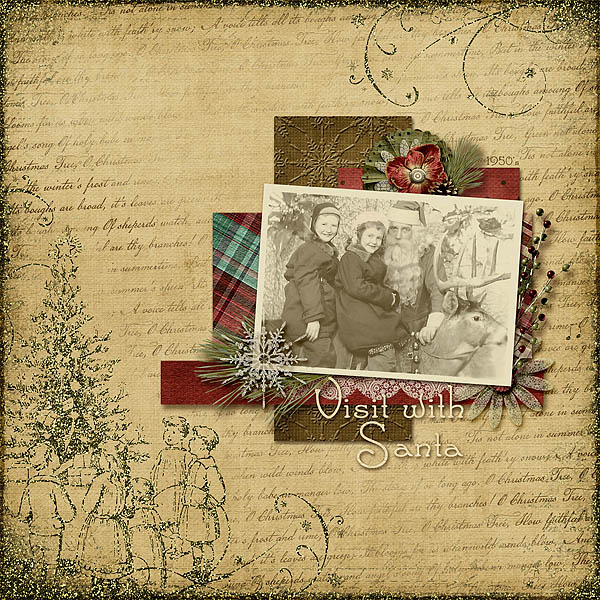 Kris shows us another way to use this kit. While the picture was taken in December, her layout really doesn't have a holiday theme to it. She kept it as a musically themed layout and it works. I love all of Kris' cluster work as well as the ribbons. The subtle background just adds to the beauty of this page.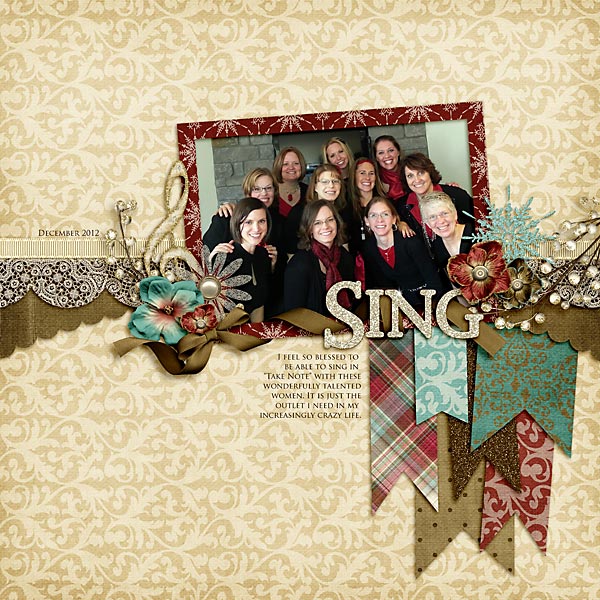 The final kit released this month is going to be perfect for upcoming New Year's celebrations and it is rightly called,
Auld Lang Syne
. Can I just say how in love I am with all the purples in this kit?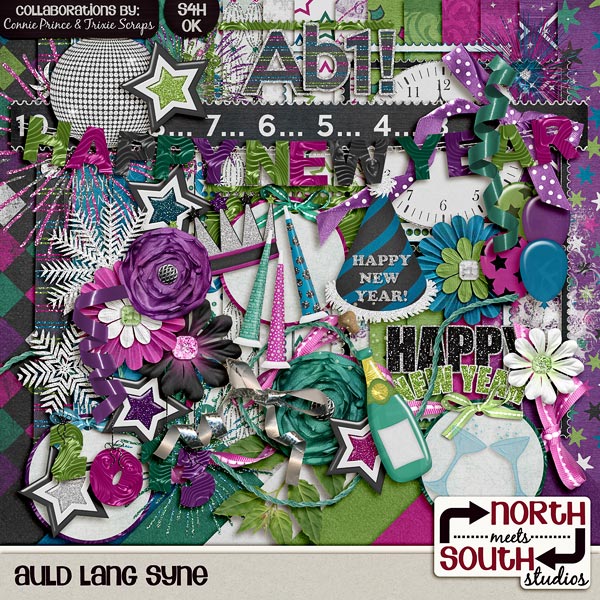 I love the way Helen's page just seems to pop out at you. I also like that it's not necessarily a "New Year's" layout, but it is about a new year. I think it's great that Helen created a page about having a birthday on New Year's Day and that it isn't that bad of a day to have a birthday. I really like all the geometric shapes included in her layout and that they all just work together.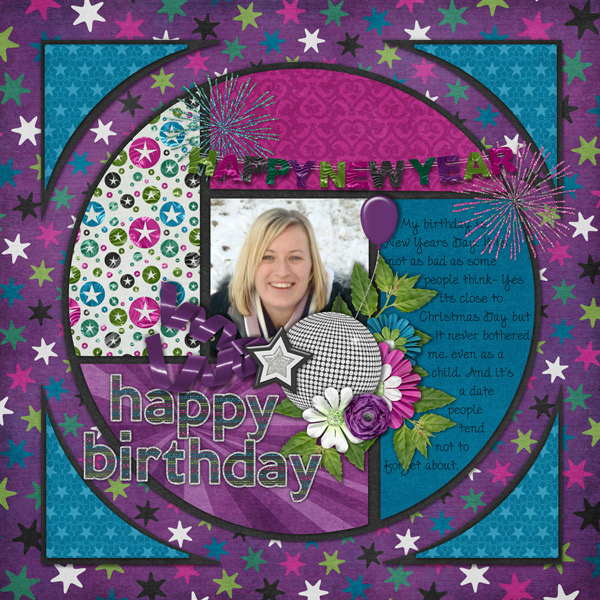 Erica's page brings out the smiles. I love that you can tell that they were having fun without even reading the journaling. I like that Erica used photo strips, but filled some of them in with papers and other elements. It helps keep the page interesting and not too overloaded with photos.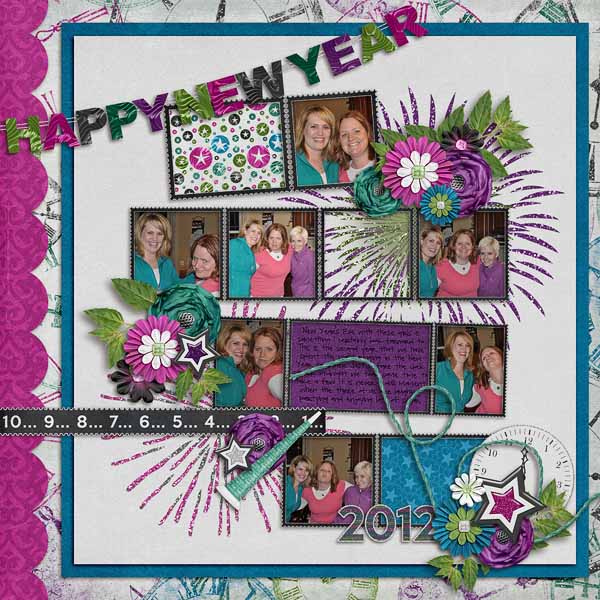 With the holidays ending right around the corner, hopefully you'll have time to scrap all the pictures you took during the holiday season and these three kits will help you right along. Please share your work with us in the
gallery
, because we all love to see holiday layouts and fun New Year's celebrations. And on that note, I wish you all a very Happy and safe New Year!
All Trixie Scraps Designs products can be found in the following online stores:
Trixie Scraps Shop * My Memories * Gotta Pixel * Scrapbook Bytes

Good Saturday morning. Can you believe December's almost over? This month seriously flew by and if you also feel like the month flew by, perhaps you missed some of the kits released this month. So today we're going to recap the kits that were released.