Hello Trixie Scraps fans, and welcome to the last Sunday of 2012.  This Sunday also happens to be the fifth Sunday in December so today we have a special post for you, I'll be taking you on a quick tour of the Trixie Scraps Pinterest page.  For those of you who are unfamiliar with Pinterest, it is a site that has been around for about 2 years now that allows you to "Pin" pictures and content from around the web taht you like or find interesting.  Many people use it to collect fashion ideas, home decor and DIY projects, recipes to try, and ideas on endless other topics.  In the scrapbooking world, many people use it as a way to gather inspiration layouts.  If you don't have an account yet, you can go sign up here.
If you head over to the Trixie Scraps Pinterest page you find a variety of scrapbooking related boards.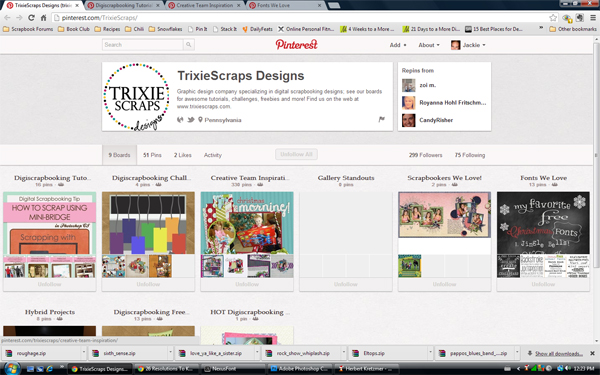 Let's take a look at a few of my favorites.  First off the CT Inspiration board is a fantastic place to gather great ideas from.  Here you will find all sorts of layouts by the Trixie Scraps Stars.  Click on any of the layouts for a closer view of the image, and Like your favorites so that you can find them again easily for a scraplift later.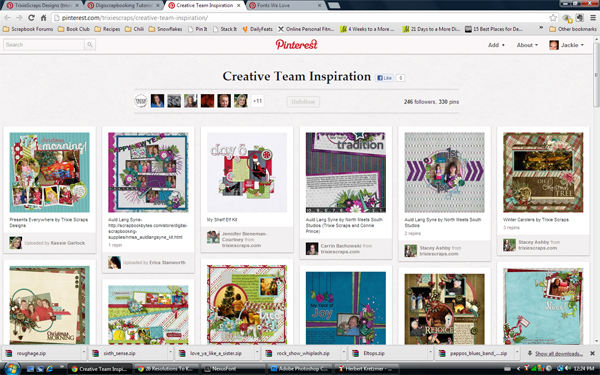 Next up, let's take a look at the Digiscrapbooking Tutorials board.  Here you will find links to all sorts of fabulous tutorials from the Trixie Scraps blog.  We are working really hard to get all of our tutorials posted here, so you should soon be able access the full collection of tutorials from this board.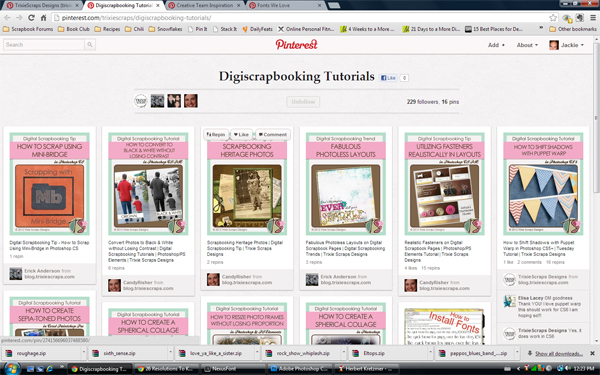 Finally, we'll take a peek at one of my absolute favorite boards on the Trixie Scraps page...Fonts We Love.  I'll admit it, I have a bit of an addiction to fonts, and this board keeps me downloading more all the time.  It has some great suggestions for themed fonts, such as Halloween, Christmas, and Walt Disney World, and contains loads of other great fonts too.  Click on any image for a closer view of the picture and a link to the page you can download the fonts on.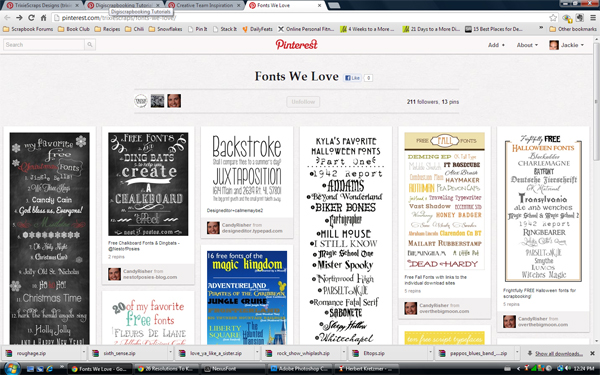 I hope you liked this quick tour of our Pinterest page.  Be sure to start following the Trixie Scraps Pinterest board.
All Trixie Scraps Designs products can be found in the following online stores:
Trixie Scraps Shop * My Memories * Gotta Pixel * Scrapbook Bytes