Time passes so quickly, and September is a time of new beginnings, so it is a perfect opportunity to do some Q&A pages with the special people in your life. And take the time to scrap one for yourself while you're at it. Like a yearbook, your page should include a prominent portrait shot of the person you're featuring. Be sure to include the date and their name on there too along with their age. I've also come up with a list of fun things that you might want to include on the page.
This year I am in grade:
My favorite teacher is:
My favorite subject is:
At recess, my favorite thing to do is:
When I open my lunch, I love it when I see:
My best friend is:
When I grow up I want to be:
The best thing I did on summer vacation was:
My favorite color is:
My favorite movie/TV show/book is:
There really are countless fun facts that you could include about the person that you're profiling. Feeling the need for some inspiration? Here's a page that I came up with using
Rise To It
. Since I don't have kids, I decided to do this as an about me page.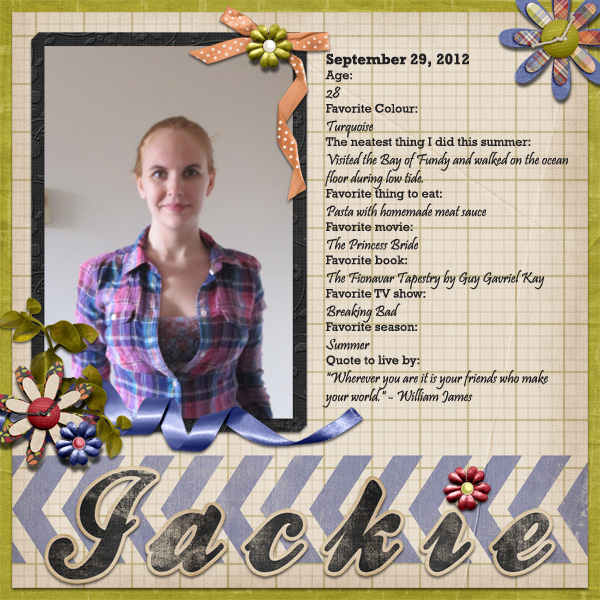 So, are you up for the challenge? I really hope so. If you create a yearbook inspired page, please share it with us in the
Trixie Scraps Gallery
so that you can be a
Show Off
and win some cool free stuff.
All Trixie Scraps Designs products can be found in the following online stores:
Trixie Scraps Shop * My Memories * Gotta Pixel * Scrapbook Bytes

Hello everyone, and welcome to Sunday Super Special. September this year is one of those months that has five Sundays, so we get to bring you a super special post today. So here we are on the last day of September. By this time, I'm sure that those of you with kids have some pretty great back to school photos and maybe even their class photos for the year. To wrap up the back to school season, we decided to bring you some fun inspiration that can be used to create a layout with those school photos, but could also apply to pretty much any portrait shot. Today's inspiration is a back to school yearbook page.