This week I'm going to share with you a few of my favorite layouts from the past couple months.
We'll start with the newest first and work backwards. The newest kit that was released was released at Gotta Pixel and it's called
Spunky Monkey
. This kit is so much fun and I love all the layouts the CT made.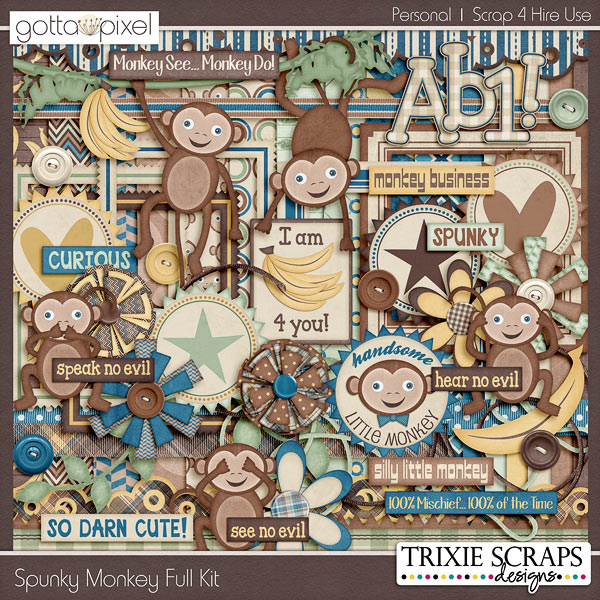 One of my favorite layouts made with this kit was done by Candy. When I originally saw the kit I immediately thought of a zoo-themed page. Candy had the same idea and made her layout about the San Diego Zoo. I love all the buttons she used on this layout. I like the flower clusters that are kind of hidden. I also enjoy her witty journaling, especially the last line about her feet thanking her.
Ever get stuck trying to figure out a layout?
January's Templatetopia
will help you with your scrapper's block. I love all the different layouts this template pack has to offer.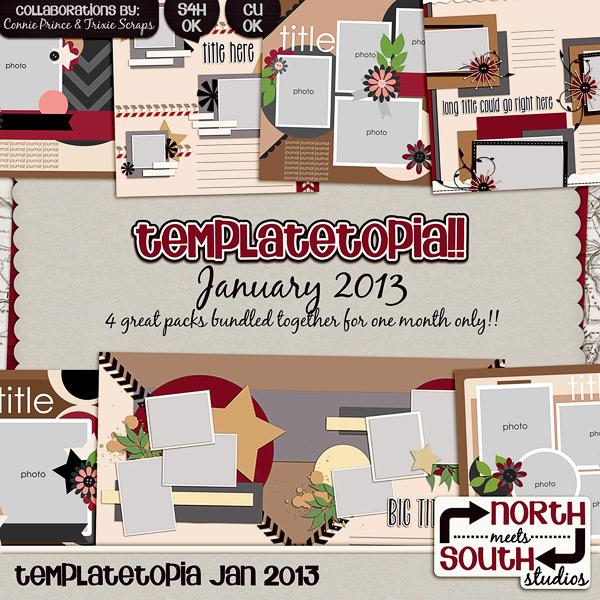 It's nice that these templates can be rotated a few ways to fit your needs. Erica rotated one and I love the way her page came out. This layout really has a kind of Western feel to it and it goes nicely with the theme of her page, The Boots. I love when there's a story attached to simple objects and I love that Erica chose to scrap about it.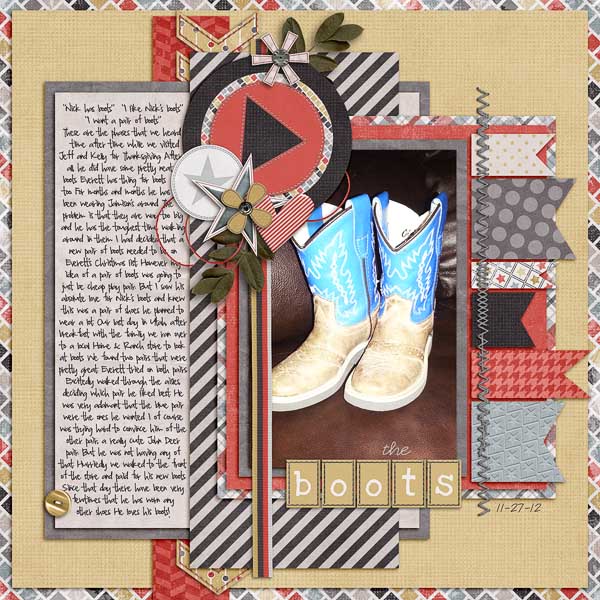 Going back to December, Trixie once again teamed up with Connie Prince and they created
Auld Lang Syne
. Seriously love all the purples in this kit.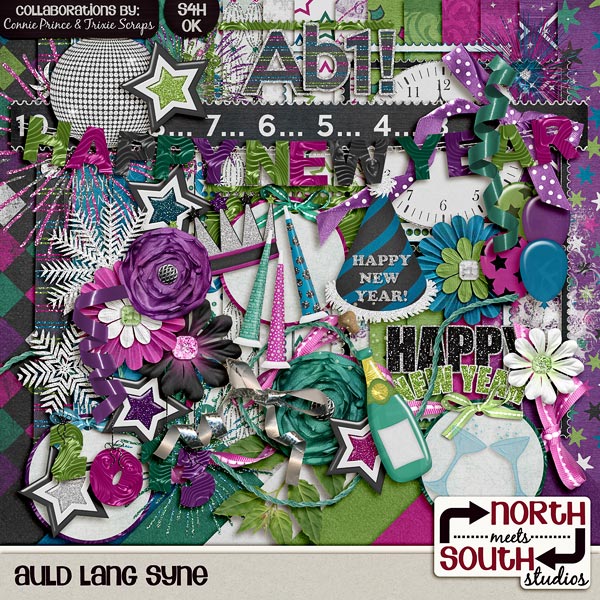 One layout that really drew me in was Jessica's. I love the black and white photo and the very simple title and date. There isn't much that needs to be said with such a great picture. All of Jessica's cluster work is amazing and I really love how the black and white photo draw the colors of the layout out.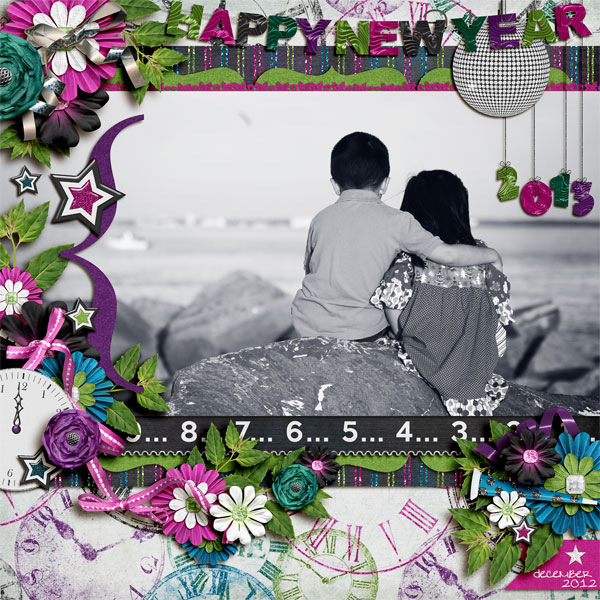 Winter Carolers
was released before that and I really like how musically themed it is. It's one I still need to get my hands on.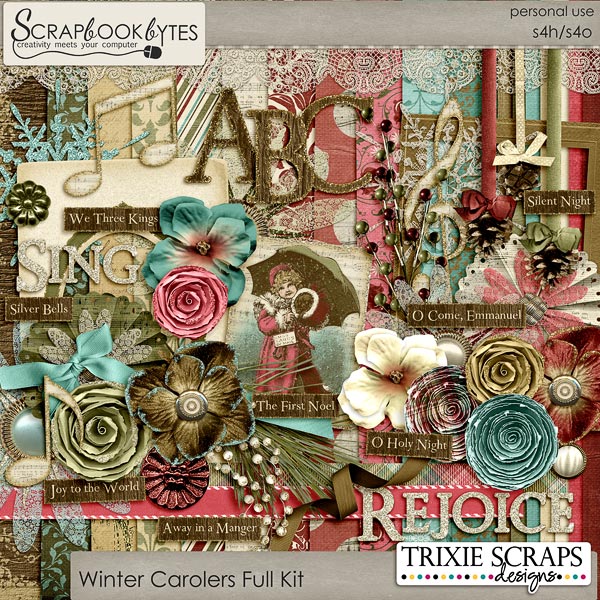 When I saw what Jackie did with this kit, which she also posted as a
Master's Monday
topic - I was blown away. I loved her idea of scrapping a songbook and her layouts were just as amazing. I love the font that Jackie chose for her Away In A Manger song layout. The font fits perfectly for the song. I love that She incorporated one of the word art tiles as her layout's title.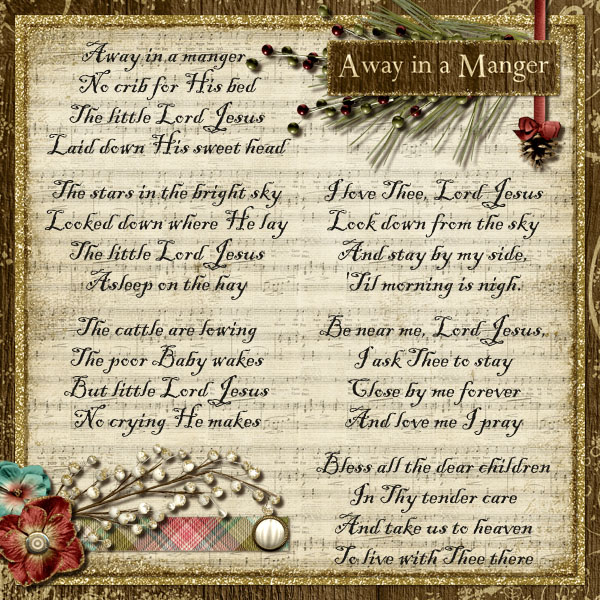 The last kit I want to show a bit about today is one that I really get choked up on everytime I look at it. I think it's an important kit for all of us scrappers to have and it can be used in so many ways. It is called
You Matter
.
Lori's page is the perfect example of what I imagine this kit to be used for. I love the one photo layout and the way she matted the photo over quite a few papers. I love the way she used the flowers in the kit and her simple title using the word art.
So that's a quick wrap-up of some of the most recently released kits. I hope you'll find the ones you need and get scrapping all those photos. Don't forget to share your work with us in the
gallery
if you do.
All Trixie Scraps Designs products can be found in the following online stores:
Trixie Scraps Shop * My Memories * Gotta Pixel * Scrapbook Bytes

We've made it to another weekend and that means another round of Saturday With The Stars.