Hello there Trixie Scraps fans and welcome to another fantastic Take $2 Tuesday sale. I don't know about the weather where you all are, but in my neck of the woods it is definitely still looking like winter outside. We're starting to get hints of spring, the birds singing in the morning, slightly warmer temperatures, and lighter evenings, but there is still plenty of snow on the ground. I can't wait for spring to get here in full force. Today's kits are perfect for the upcoming season.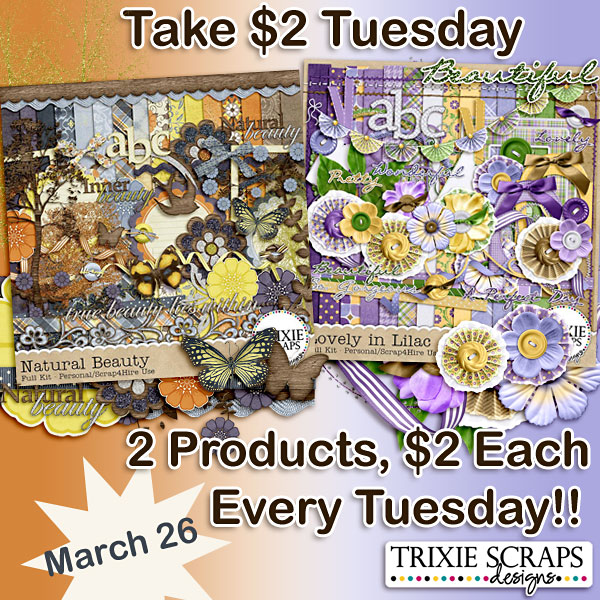 First off we have a lovely nature themed kit in Natural Beauty.
I have a bit of a soft spot for this kit. The wood grain border and elements are just perfect, and provide such and earthy contrast next to the fun sparkly touches. The great array of blues, oranges, and yellows work so gorgeously together. The Scrap Stars seem to be just as in love with this kit as I am based on the layouts in the gallery. Let's take a look at some of their fabulous work.
By Lori

By Kris

By Mary Kate

The second kit featured in today's sale, Lovely in Lilac, is all about spring.
The pretty purples, soft yellows, and vibrant greens remind me of all the spring foliage and the pretty little buds that should be poking their heads out any day now. Love clustering? This kit contains lots of flowers, in a variety of styles, just perfect for creating gorgeous cluster work. The Scrap Stars have created some beautiful pages with this kit. Here are just a few to spark your creativity.
By Carrin

By Stacy

By Jennifer B

As you can see, these kits would both make a fantastic addition to your stash, and for today only you can pick them up for $2 each at any Trixie Scraps Store. Head over and pick these up while this hot deal is available.
All Trixie Scraps Designs products can be found in the following online stores:
Trixie Scraps Shop * My Memories * Gotta Pixel * Scrapbook Bytes