I hope the start of this week has been kind to you and that summer is roaring it's head wherever you may be. It is definitely roaring it's head in my part of the land and it means all sorts of kids on bikes, which is perfect for this week's Take $2 Tuesday. This week we bring to you
Riding With Boys
and it's sister kit
Riding With Girls
.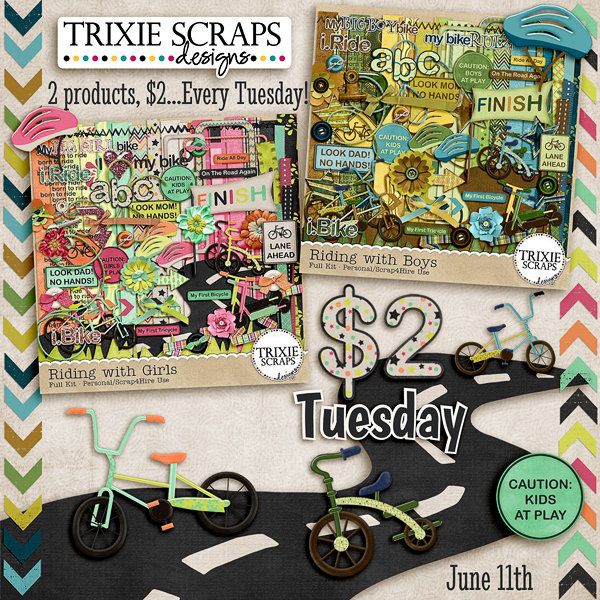 While these kits are quite similar, there are a few distinct differences, so let's take a quick look at each kit individually.
First up
Riding With Boys
.
I love the color scheme in this kit. I love that it looks masculine from the get-go. The alpha is a fun addition as well as all the fun elements that are included.
Here's a look at what a few of our Stars have created with
Riding With Boys
.
By Kris
By Jennifer
By Lori
Let's switch gears now and take a look at
Riding With Girls
.
I love the glitter that some of the word art and elements have. It's also a very feminine kit and I love the pinks and greens that this kit includes. I like that both kits have the same elements, but they are colored differently for each kit.
Wanna see what this kit can lend itself to creatively?
By Stacy
By Jessica
By Shauna
Don't wait. Go grab each of these kits in any Trixie Scraps stores, while they're only $2 each. It only last for today, so get busy.
All Trixie Scraps Designs products can be found in the following online stores:
Trixie Scraps Shop * My Memories * Gotta Pixel * Scrapbook Bytes * Ginger Scraps

Welcome back to another Take $2 Tuesday.